Episode 18 Marin Hamamoto (midfielder, Yamato Sylphid)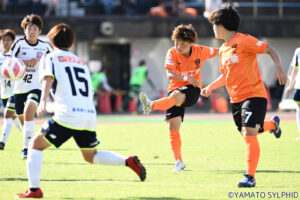 The goals envisaged by professional player Marin Hamamoto, top scorer for newly promoted Yamato Sylphid, and her club
"66" is an overwhelming number that shows just how much determination Marin Hamamoto, the ace player of Yamato Sylphid, which will play the 2023 season in Division 1, devoted to promotion and how much pride she has as a "professional player".
In addition to being named as MVP in Nadeshiko League Division 2, she was also the joint top scorer (with Mao Sakamura of JFA Academy Fukushima) in the division with 13 goals. Scoring 35% of her team's total number of goals (37), she amply fulfilled her role as goal scorer. During the season, she had 66 shots, far outstripping the 46 shots tried by second-placed Eriko Adachi (Diavorosso Hiroshima). This is indicative of the courage she displays in aggressively shooting and rousing her team in all situations.
In the 2022 season, Hamamoto signed a professional contract with the club. In the Nadeshiko League, each club receives support from local companies and sponsors in various ways to ensure that their players can continue playing football. In these circumstances, the relationship between Yamato and Hamamoto in signing professional terms has given great impetus to the league.
Hamamoto previously worked in a support facility for disabled persons, where she found the work to be physically demanding and mentally exhausting. Prior to the 2022 season, her desire to concentrate on playing football coincided with the ambition of club president Ryosuke Otawa to "raise the level of women's football from the environment too". Otawa had previously worked on the administrative staff at Yokohama F Marinos in the J. League and now aims to gain entry to the WE League in the future. The club's ace player approached the 2022 season with a strong sense of responsibility, love for the club, and professional pride.
Yamato lost two times to championship contender Shizuoka. At the start of the season, the team struggled to embrace manager Kazuyuki Takahashi's ideal of passing football with rapid transition between defense and attack and constant movement of the ball. Reflecting on the team's return to Division 1, the ace player describes her feeling as "relieved" rather than "delighted".
"Since I was the only player to have signed a professional contract, I strived to set an example by frequently visiting an orthopedic clinic for physical care and preparing my own meals with advice from a nutritionist on the nutrition side. Because I could focus on football only, unlike before when I didn't have the time, I had opportunities to review videos of my playing and work on my game in training. I sought to improve communication within the team and proactively called out to teammates, encouraging them to improve their skills. This was a year in which I realized the difficulty and importance of communication in football. The players respect each other and cherish the club together with the manager, who guides us with great care. This fostered a strong desire to gain promotion to Division 1."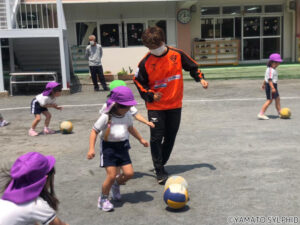 Fostering the club's individuality. The challenge of hosting the first Nadeshiko League game at Nissan Stadium
Having experienced both Division 1 and Division 2, Hamamoto (28 years old) describes the high level of the league and the strength, including mental strength, of its players when she says, "There are no easy games during the season. Every club in Division 2 has high technical level and plays a different style of football."
Sylphid's hometown of Yamato in Kanagawa Prefecture has always been regarded as a "Mecca of women's football". It is the hometown of Shinobu Ohno, who was a member of the Nadeshiko Japan team that won the 2011 FIFA Women's World Cup in Germany and is currently coach of Omiya in the WE League, and other outstanding players such as Nahomi Kawasumi, who plays overseas, Megumi Kamionobe, and Ami Sugita. The city authorities of Yamato support local development in various directions under the theme of "the city of women's football".
Goalkeeper Shiho Onodera, who previously helped build a golden age at the former Yomiuri Beleza together with Homare Sawa and others, now works in the city office and also helps as a goalkeeping coach at the club. Linking the club to local government support, she is striving to make Sylphid a special institution.
In May 2022, thanks to the forceful backup of Nissan Motor Co., Ltd. which that year signed a partnership agreement with the club, Sylphid became the first women's football team to host a home game at Nissan Stadium. With a capacity of 72,000, this stadium staged the final in the 2002 FIFA Korea/Japan World Cup. Less than 700 people attended Sylphid's game against Mie, the 10th game of the season, however, there is no doubt that this step by "the city of women's football" was greatly encouraging for the local community and companies that are involved with women's sport.
Hamamoto's professional contract is another challenge for Sylphid. The club's application to join the WE League in the first season of 2021 had to be postponed because it couldn't get its stadium ready in time, however, with professional players still accounting for only around 60% even in the WE League, the signing of a professional contract by a Division 2 team has demonstrated a clear vision for the future.
Born in Kyoto, Hamamoto graduated Osaka Toin Senior High School and played for Kibi International University Charme, Okayama Yunogo Belle, and AC Nagano Parceiro Ladies before moving to Sylphid in 2020. Having played for four clubs and reached the age of 28 before earning a professional contract and gaining return to Division 1, she is a "late bloomer", but this is another characteristic of hers that may inspire many other female athletes and the companies that support them.
"I think about what kind of manager I want to play under and what kind of football I want to play when I choose clubs. At my previous club of Nagano, although the team didn't get good results, I was able to experience fearless football that relied on individual ability under the manager Midori Honda. It was a difficult season in which I couldn't respond to the demands of the manager and team, however, until then, since I had been averse to physical contact and tended to touch the ball infrequently, I think that I was able to grow by playing a new style of football, and that has also helped me at Sylphid. I now feel that I have finally found a football club that is facing in the same direction that I aim for. I hope to consider more ways I can contribute to the community, and I look forward to learning new things in life. Looking ahead to next season, I have a desire to take on various new challenges.
Having found a "place to belong" as a professional at the age of 28, Hamamoto has no intention of resting on her laurels, but says that she is using the off-season to train and improve her physical strength in readiness for achieving next season's targets. Playing out of "the city of women's football", her skills and individuality are sure to impart a fresh breath of air in next season's Nadeshiko League.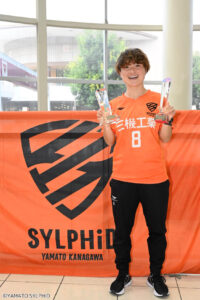 Marin Hamamoto Profile
Born October 9, 1994 in Kyoto. Position: midfielder
Kibi International University Charme → Okayama Yunogo Belle → AC Nagano Parceiro Ladies→ Yamato Sylphid (since 2020)
First league appearance: March 23, 2013 at the age of 18 years 165 days
Photographs provided courtesy of Yamato Sylphid
Yamato Sylphid: https://www.yamato-sylphid.com
(Series author: Sportswriter Midori Masujima)