Episode 17 Miharu Takahashi (goalkeeper, Shizuoka SSU Bonita)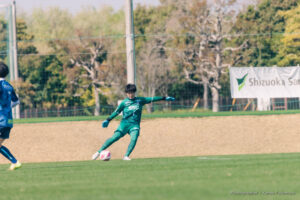 Goalkeeper who became team captain midway through a championship-chasing season
During the summer of 2022, with Shizuoka SSU Bonita well placed to aim for promotion to Division 1, the team conducted an unusual "personnel reshuffle" by changing its captain. Kana Fujiwara, who had been the central pillar of the team, decided to transfer to "Nojima Stella Kanagawa Sagamihara" in the WE League. For the team's goalkeeper Miharu Takahashi (31 years old), when the request to become the new captain arrived, it felt like a "bolt out of the blue". Having started her career during the team's embryonic phase as "Iwata Bonita" and experienced transfers to Iga, Nagoya and Setagaya, Takahashi was a veteran player but had never experienced being captain. Moreover, she could never have imagined taking on such an important role amidst the pressure of chasing the title with only three games of the season to go.
"Since I was delighted, both as a friend and football player, to see Fujiwara get a transfer to the WE League, I cheerfully sent her on her way by saying 'Ganbare (Do your best!)' and 'leave the team to me', but I had no idea how I could become a trustworthy captain. It was thanks to everybody's efforts that we became champions and achieved promotion."
Takahashi smiles shyly under her mask as she recalls the season. Not wanting to slow the team's momentum, she accepted the job with a positive attitude of "leave it to me", however, she had anxieties. As it turned out, the final three games after the restart were not easy.
In July, when Takahashi became captain, the team was in second place, one point behind JFA Fukushima Academy. Fujiwara was transferred to Nojima following the 15th game of the season on July 10, and it wasn't until September that league games were resumed following a two-month summer break. In the 16th game of the season, the team drew 1-1 with newly promoted Veertien Mie.
With the possibility of becoming champions on the horizon, pressure had started to build within the team, and Takahashi sensed this. "The players were becoming nervous at the possibility of becoming champions". It was at this point that the new captain brought the players together for a meeting.
There is a school of thought that all a team needs to do is avoid defeat and that holding such meetings only invites additional tension. However, Takahashi frankly shared her feeling by saying, "I'm sorry that my poor instructions (to the younger players) caused us to lose our rhythm and concede a goal. Let's turn it around here". In addition to focusing on what she needed to do as captain, she made up her mind to concentrate on her game by becoming a bigger presence in front of goal.
This spirit was transmitted to her teammates. The team won its next game 2-0 against high-flying, fourth-placed Hiroshima, leaving it needing to win the final game of the season to become champions. The team duly won its final game against Kibi International University Charme 6-1 to clinch the title.
Shizuoka SSU Bonita finished the season just two points ahead of JFA Fukushima (43 points to 41), winning just one more game than its closest rival (13 wins to 12). The decisive factor in this championship success was the presence of the goalkeeper who helped the team by limiting goals-against to a league-best of just 15.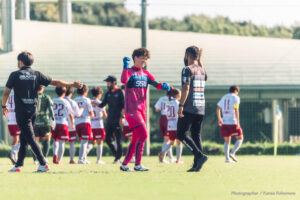 Division 1 promotion reflecting pride in the football hotbed of Shizuoka and the spirit of Bonita
Despite her misgivings about taking on the responsibility of captain, Takahashi also realized that she had the ability to bring the team together in her own way. She watches the other players and senses what they want to do. She describes this people watching ability as follows.
"When I was young, I only played to my own rhythm. When I worked as a driver, I learned a lot from a senior colleague in the workplace. No matter how busy we became, she always coolly monitored and watched the situation and displayed careful consideration. That's why she could offer pertinent advice to the juniors. Maybe I can fill the important role of captain on the pitch because I had previously encountered and received valuable advice from this senior and various other people in the workplace."
In her previous job of home deliveries, Takahashi worked full-time from 07:30 to 17:30, and even now she delivers medications for local company "Kyorindo", which is a partner enterprise of Bonita. Working 08:00 to 15:00 from Tuesdays to Fridays, she drives up to 80 kilometers a day, but says that she enjoys her work.
Shizuoka is regarded as a football hotbed, however, Shimizu S-Pulse, which was one of the 10 founding members of the J. League in 1993, and Jubilo Iwata, which built a golden age, have both dropped down to J2. In these circumstances, football fans expect much from Bonita followings its promotion to Division 1.
Moreover, having received no cautions in 18 games during the season, the team has also earned a lot of praise for its fair play spirit, which can be called the "soul" of the team. Takahashi has the following to say: "If we cause the game to stop due to complaining to the officials or fouling our opponents, we would only be cautioned and end up having to deal with additional time. Rather than regret that after the game has finished, I sometimes called on the team to focus on our own game."
This season, the team was knocked out of the Empress's Cup by Cerezo Osaka Sakai Ladies. The team lost on penalties after forcing a scoreless draw with Cerezo, which will be promoted to the WE League next season, however, this game helped the team realize where it currently stands after gaining promotion to Nadeshiko League Division 1. With the captain embodying such qualities as hard work, a never-say die attitude, and fair play, the team intends to not only survive but also compete for as high a position as possible.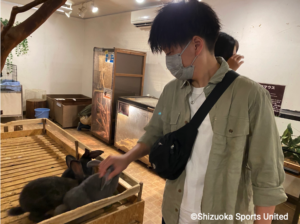 Miharu Takahashi Profile
Born April 15, 1991 in Aichi Prefecture. Position: goalkeeper
Shizuoka Sangyo University Iwata Bonita → Iga Football Club Kunoichi → NGU Nagoya FC Ladies → Sfida Setagaya FC → Shizuoka Sangyo University Iwata Bonita (currently Shizuoka SSU Bonita) (since 2019)
First league appearance: April 10, 2011
Photographs provided courtesy of Shizuoka SSU Bonita
Shizuoka SSU Bonita URL: http://www.nadeshikoleague.jp/club/shizusan/
(Series author: Sportswriter Midori Masujima)