Episode 16 Yurie Konishi (forward, Tsukuba FC Ladies)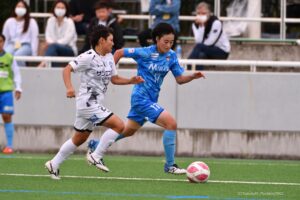 Playing football while conducting physics research at graduate school – a precious year in her 'home team'
The level of communication in a team emerges above all in such casual situations as these.
The forward Yurie Konishi (22 years old), who came through the youth system of Tsukuba FC Ladies, this season returned to her "career origins" when she transferred from Nankatsu SC Wings (Katsushika Ward, Tokyo) to Tsukuba FC Ladies. In 2022, she suffered an injury to her right knee inside ligament – the first major injury of her career – at the start of the season. Looking back, she says that the period of solitary rehabilitation she went through apart from the other team members was "very hard". Here, defender Shiho Fujii (31), a player and staff member sitting in on the online interview, interjects and asks to say a few words about her younger teammate who has returned to her original club.
"About the injury, it happened when Yurie ran back to help the defense out of a pinch. She came sliding in to block a shot. Although she won't say it, that injury occurred due to her unselfish play." It happened in the first half of the second game of the season, against the powerhouse Shizuoka SSU Bonita. With her team under pressure, Konishi returned to her own half and threw herself into a sliding challenge to block a shot. Thanks to her effort, the team was able to keep a clean sheet and gain a point from a 0-0 draw against the eventual champions. In the interview, her veteran teammate expresses regret that her young teammate incurred such a serious injury as the price for preventing a goal.
This season, Tsukuba FC finished the season with 14 points, just one point ahead of ninth-placed Mie and bottom club Yunogo, which only stayed up after playing in the relegation-promotion playoff. It's clear just how important the point gained in that draw with Shizuoka was. Even so, during the interview, Konishi waves her hand and laughs when saying "No, it wasn't such a big deal."
"When I was a youth player at Tsukuba, there were times when we had only three members, and there were games where the team included junior high school girls and I was the oldest member as a first grader at senior high school. In those games, since I felt I had to be a good example for the junior high school girls, I would always think about how I could help the team by running back to help out the defenders. That's why I didn't have any special awareness of the situation in the game against Shizuoka. It was my first experience of rehabilitation, and I think I learned a lot mentally. Even though I wanted to return quickly, I realized that I couldn't rush my recovery."
Fujii joined the top team when Konishi was still a third grader at junior high school. Their relationship as teammates, which has continued for 10 years, seems to express the vision of this women's club team into next season and the future.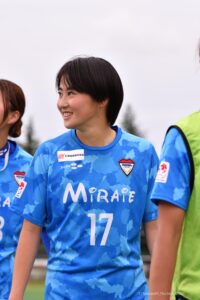 The relationship between light refractive index and quantum computers and football …
Konishi became interested in physics at "Namiki Secondary School", which is a combined junior and senior high school in her hometown of Tsukuba and she advanced to the Department of Physics at Tokyo University of Science. Her main field of research is "light refractive index" and she is currently conducting further physics research at the University of Tsukuba Graduate School.
"I'm currently doing experiments using light, but I will also use a quantum computer and …" As Konishi painstakingly describes her research activities, myself and Fujii shrug our shoulders as we struggle to keep up. Every day, after finishing research at the Graduate School research institute, Konishi does part-time work on an after-school program with local children, and goes to the football ground for practice in the evening. Since she is conducting scientific studies, I assume that she reviews videos of her own play and imagine her numerically quantifying and analyzing her performance or applying her light refraction research to studying shooting angles and so on, however, she brushes my imaginary inquiries aside with a chuckle.
She laughs shyly when she says, "My playing is expressive". Fujii adds, "Yes, she brings an element of wildness to her playing". From this curious exchange, I sense the quality of relations within the team.
"This season, I found it difficult to recover from the early injury and return to the team, and I finished the season with only four goals (the team only scored 12 goals, which was the lowest figure in the league). I wasn't happy with this number, so I'm aiming to do better than four goals next season. Although the team wasn't dragged into the relegation-promotion playoff, on the individual level, I could have made more of my chances, so not only do I want to score more goals, but I also want to help create more shooting opportunities for the overall team."
Konishi's two personalities, i.e. the logical researcher who thoroughly organizes experimental data, and the "sensitive forward" who sacrifices herself with all her might to help her team defend, are combining like well-balanced teammates in this 22 year-old's daily life.
Tsukuba FC built a new clubhouse and returfed its pitch with the help of subsidies and more than 10 million yen in donations raised through crowd funding. This community-based club has around 1,700 members ranging from preschool children to elderly persons. As a general sports club conducting other disciplines, it also serves as a secretariat for the reform of junior high school club activities, which is being advanced by the Ministry of Education, Culture, Sports, Science and Technology, Japan Sports Agency, and Japan Sport Association (JSPO), and its activities are providing an important model as a pioneering initiative. There is great significance in the fact that such an original club exists in the Nadeshiko League.
Having survived in the Nadeshiko League and acquired strength for two consecutive seasons, the team aims to finish even higher next year.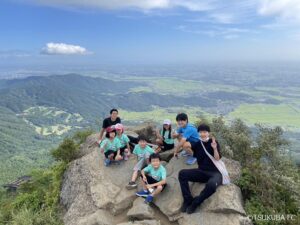 Yurie Konishi Profile
Born December 29, 1999 in Ibaraki Prefecture. Position: forward
Tsukuba FC Ladies Youth → Nankatsu SC Wings → Tsukuba FC Ladies (since 2022)
First league appearance: March 27, 2022
Photographs provided courtesy of Tsukuba FC Ladies
Tsukuba FC Ladies: http://www.nadeshikoleague.jp/club/tsukuba/
(Series author: Sportswriter Midori Masujima)