Episode 15 Rua Nishimura (forward, Kibi International University Charme Okayama Takahashi)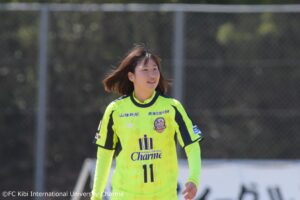 The child mascot who realized her dream and now aims to inspire dreams in others
Officially, called "Kibi International University Charme Okayama Takahashi" (sixth-placed this season), the club has the longest name in the Nadeshiko League, and various sentiments are contained in that.
Based in the city of Takahashi, the club primarily draws its playing staff from students of Kibi International University, and aspires to being a community-based club. Club staff implement the "Takahashi Station greetings campaign" for ensuring the road safety of children commuting to schools, conduct activities for promoting awareness about human rights, and hold mobile football classes at elementary schools three times a week.
The club's website carries a "household account book" for students to help them balance playing football with their university studies, as well as an official song (unusual in women's football) and various other detailed information. Rua Nishimura (21) started playing football at the first Charme (meaning "charming" in French) academy (junior team) and has grown through the ranks to become a first team player. Now in her third year since becoming a full-fledged member of society, from this season she has opted for an environment that allows her to focus on football while also filling a key role in the above-mentioned activities.
With a carefree laugh, Nishimura says she has "lots of fun" in the mobile class activities held on Wednesdays, Thursdays and Fridays.
Since she also had ambitions to become a nursery teacher, she has a permanent smile when she says, "I love children – they're so cute and have such funny ideas". Three times a week, from 16:45 to 18:00, together with the club's coaches, she visits three elementary schools to hold enjoyable football classes for around 10 boys and girls ranging from first grade to sixth grade
"Even though I might think that the children have understood me, once the game begins, all 10 players chase after the same ball, and I realize that I need to communicate better. But I'm glad to help children discover in some small way the enjoyment of football. Since I had a dream and was able to make that come true through football, I hope that even one more child can have the same experience."
Nishimura was born in Kurashiki City and followed in her older sister's footsteps in starting football. Since there were no football clubs for girls around her, she played with boys in a local team during the higher grades of elementary school, and continued to play with boys in club activities at junior high school. The boys were always kind to her, however, more girls could continue playing football if the environment for girls' football were more accessible. When Nishimura sees her younger sister waiting expectantly for her to come home so they can play football together, she says that she feels a sense of responsibility regarding Charme's policy of being based in a university while having junior team activities in the local community and high schools.
The academy that Charme established while Nishimura was at junior high school started with only four members, but now it has more than 30 girl players. Around that time, when Nishimura was a ball person at games of Kibi International University, she was moved by the efforts of the team's ace player Mayu Ikejiri (25), who also played for the "Nadeshiko Japan" women's national team. This inspired her to aim for a career at Charme.
"Ikejiri was glittering. I aspired to becoming such a player, and that became my goal. When I was in second or third grade at junior high school, I'll never forget the emotion I felt when I entered the pitch as a child mascot with her. Since I was already quite tall, I was almost the same height as Ikejiri. She was surprised and sked me how tall I was. Thanks to Ikejiri's presence, I made it my dream and goal to join this team, and now I feel that it is my turn to inspire the same feeling among children."
Ikejiri also played for the "Nadeshiko Japan" team managed by Asako Takakura, and she announced her retirement from the game at the end of this season, in which she played for Vegalta Sendai in the WE League.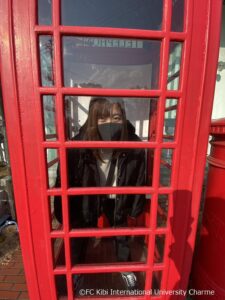 – Hopes for next season driven by the disappointment of this season's final game
This season, Charme finished a respectable sixth in the league, however, the final game against Shizuoka SSU Bonita exposed issues for Nishimura and the team to work on before next season.
In the final game (18th round of matches) played at the team's home of Kamihara Sports Park in Takahashi City, Charme finished the first half trailing only 0-1, however, in the second half, the team conceded another five goals and was comprehensively beaten 1-6. This season's target had been to finish fifth or higher, and the team was in fifth place before the start of the game, however, it slipped to sixth as a result of this defeat. Although the team improved from ninth in the previous year, Nishimura was so disappointed that she could barely look at the Shizuoka bench as its members celebrated becoming league champions.
"Our coach told us to remember the disappointment. Having played our final game at home against the team that became champions and won promotion to Division 1, I felt a strong desire to be in the same position next season. Although we finished sixth and didn't quite achieve our goal, we also made progress by winning two of our home games (also two draws) compared to no wins the previous season. Next season, all the team members want to harness this disappointment and aim for promotion to the top division. We will do our best to ensure that our home games attract lots of supporters."
For next season, Nishimura has set herself the specific targets of scoring at home, where she didn't find the net this season, and getting at least nine goals at a rate of one goal every two games. Looking further ahead, she hopes to someday play football overseas.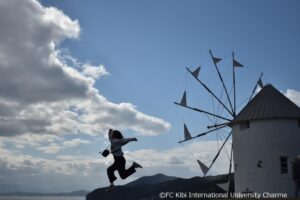 Rua Nishimura Profile
Born July 26, 2001 in Okayama. Position: forward
Kibi International University Charme Okayama Takahashi (since 2018)
First league appearance: September 1, 2018 at the age of 17 years 37 days
Photographs provided courtesy of Kibi International University Charme Okayama Takahashi
Kibi International University Charme Okayama Takahashi website=http://www.nadeshikoleague.jp/club/kibikoku/