Nadeshiko Leaguers Running into the Future Episode 14 Sana Kishino (forward, Okayama Yunogo Belle)
Okayama Yunogo Belle was a perennial "powerhouse" of Japanese women's football thanks in part to the efforts of midfielder Aya Miyama and goalkeeper Miho Fukumoto, who were key members of the "Nadeshiko Japan" women's national team for many years and helped "Nadeshiko" win the FIFA Women's World Cup in 2011. However, having finished bottom of Division 2, Yunogo Belle is currently engaged in an intense promotion/relegation series with three other teams seeking promotion to the division.
In Episode 2 of the Division 2 section of "Nadeshiko Leaguers Running into the Future", I talked to Sana Kishino (25 years old) of Yunogo Belle, which was facing a tough promotion/relegation series. On asking about her reasons for continuing to play at the club that may also be described as her "starting point", she exuded a strong sense of pride when saying, "I could never let my beloved Belle that was so strong drop out of the league".
(By Midori Masujima, sportswriter.)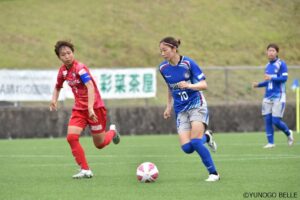 Yunogo Belle facing a promotion/relegation series for the second year running. What Kishino learned from legends
Kishino said in a forceful tone, "That moment is etched on my memory and I cannot forget it even now." Yunogo Belle, which has played an integral part in not only the Nadeshiko League but the history of Japanese women's football, finished bottom of Division 2 and had to enter a promotion/relegation series for the second season running.
Even so, there is a scene that remains etched on her memory. That is her reason for "fighting".
Born in Tokyo, Kishino devoted herself to football and attended Murata Girls' Senior High School (current name: HIROO GAKUEN KOISHIKAWA), a powerhouse of girls' high school football. On graduation, when considering whether to advance further in education or join a football club, she told her parents, "I can grow more by joining a Nadeshiko League club". The reason she felt she could grow was because that club was a special place.
In the 2011 FIFA Women's World Cup, "Nadeshiko Japan" were crowned champions despite not even being regarded as one of the tournament favorites. The world marveled at Nadeshiko's technique, teamwork and tactics, which not only overcame but took advantage of the physical disadvantage of the Japanese players.
Core members of this "Nadeshiko Japan" team were midfielder Aya Miyama (37, retired in 2016) and goalkeeper Miho Fukumoto (39, Sanfrecce Hiroshima Regina), who played for Okayama Yunogo Belle, and Kishino was convinced that this club could help her grow. She says that she still cannot forget the video about the club's history that new recruits watched.
In 2001, Mimasaka Town, in a unified initiative by the local government and private sector, formed a women's football team as part of its efforts to vitalize the town. As a football club rooted in the community with the full support of mainly citizens and ryokan (Japanese inn) employees of Yunogo Onsen Hot Springs, it was a pioneering enterprise that also included men. Under coach Midori Honda (58, currently coach of Uzbekistan women's national team), the inaugural team included Miyama and others. The players at that time held down jobs in hot spring inns as cleaners and waitresses and played on pitches without turf, while the local citizens and stakeholders went to great lengths to welcome and support the team. The video that Kishino saw contained this moving history.
"Since I had moved to Okayama from Tokyo, I thought I would be homesick, however, every day at Yunogo Belle was so special that those feelings disappeared. That video taught me to have a sense of pride and responsibility as a member of this team. The team is now in a difficult situation, however, as somebody who experienced those days, there is no way I can give up and I truly want to repay the debt I owe this town."
When Kishino joined in 2014, Yunogo Belle won the Nadeshiko League "Regular Series". In her rookie year, she played with star players such as Miyama and Fukumoto and came to understand the history that comprised the backdrop to these legends. These early memories form the basis of Kishino's forceful energy and her determination to stand by the team in its current plight and absolutely not let it fall out of the Nadeshiko League.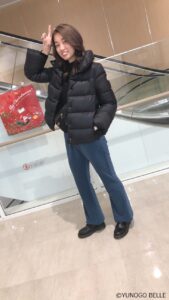 Australian transfer cut short in just two months
Kishino spent four years with Yunogo Belle. After that, she transferred to Ange Violet Hiroshima in search of wider possibilities. In 2019, she moved to the Australian team Boroondara Eagles FC, realizing a long-held ambition of playing for an overseas club. Her elderly homestay host met her at Melbourne Airport, and she embarked on a new life with a friend who had also transferred. However, over the New Year holidays, COVID-19 infections broke out in Australia ahead of Japan, casting a major shadow over her transfer.
Since the players at Boroondara Eagles FC do not have professional contracts, Kishino, accompanied by her homestay host, visited shopping centers and so on a number of times to have interviews in search of part-time work. For the first time in her life, she experienced discrimination based on race.
"Everywhere I went, people would say that COVID-19 had started in Asia and they didn't want to hire Japanese. Things escalated so much that my host family advised me that it was safer for me to return to Japan. I had no choice but to return after just two months."
Returning to Japan in early 2020, Kishino got another chance to play for Yunogo Belle. Although she was delighted to return, the atmosphere of the club including the fans and links with the local community had changed from the time of the video that had inspired her. As the only member who knew the team's golden age when it included members who had won the FIFA World Cup, she developed a strong sense of responsibility.
If Miyama were on the pitch …
During a pre-season match in her rookie season, Miyama suddenly called Kishino over. Having been deployed up front, Kishino was still unsure of how she should play, but Miyama said, "I'll get the ball to you, so just play to your strengths and do your own thing." With this encouragement, Kishino went on to score two goals. She has never forgotten those words that inspired her to have the confidence to play at the top level.
There was another time when Kishino was practicing chipped kicks by herself. Miyama took her aside and said, "If you do it like this, you can kick it more accurately and further." Once again, Kishino was surprised by Miyama's broad perspective both on and off the pitch.
All scenes continue to inspire today.
"Standing on the pitch together with Miyama and Fukumoto was an incredible experience for me as a rookie, and I felt very nervous about it. However, it is precisely because they said such words to me, they showed me how to approach games, and they tested me that I can feel grateful for continuing to play for Yunogo Belle despite its current difficulties. If Miyama were on the pitch? I'm sure she would say in a loud voice something like, 'You can do more! Never give up!'".
Next season, Kishino will continue to aim for goals that will link Yunogo Belle to the town.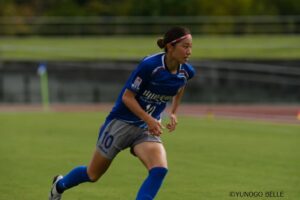 Sana Kishino Profile
Born December 22, 1996 in Tokyo. Position: forward
Okayama Yunogo Belle → Ange Violet Hiroshima → Boroondara Eagles FC→ Okayama Yunogo Belle (since 2020)
First league appearance: March 29, 2015 at the age of 18 years 97 days
Photographs provided courtesy of Okayama Yunogo Belle
Okayama Yunogo Belle website=http://www.nadeshikoleague.jp/club/yunogo_belle/