Nadeshiko Leaguers Running into the Future Episode 13 Kotono Kirihata (goalkeeper, Veertien Mie Ladies)
The annual awards ceremony marking the end of the Nadeshiko League season was gorgeously held at a Tokyo hotel on October 26. Following a season of fierce competition among the 12 teams in the top division, the Division 1 champions were Sfida Setagaya FC; Setagaya's Mayu Ohtake (forward, 25 years old) was chosen as the MVP, and the top scorer was Sonoko Chiba (midfielder, 29 years old) of AS Harima Albion. The glowing expressions of these players at the awards ceremony seemed to bring a fitting end to a wonderful season, although games in Nadeshiko League Division 2 were still continuing at the time.
Okayama Yunogo Belle, a traditional powerhouse of Japanese women's football and previously the home team of midfielder Aya Miyama and goalkeeper Miho Fukumoto, who were core members of the "Nadeshiko Japan" women's national team, finished bottom (10th) of Division 2 after being relegated in 2016 and will enter a promotion/relegation series. Pitted against three teams from regional leagues, Yunogo Belle faces a tough battle to remain in the division. In the Division 2 section of "Nadeshiko Leaguers Running into the Future", I talked to Kotono Kirihata (29 years old), the goalkeeper of Veertien Mie Ladies, which finished ninth in its first season after gaining promotion. I asked her about the harsh challenges and possibilities she experienced during her first year in the Nadeshiko League.
(By Midori Masujima, sportswriter. Titles omitted in the article)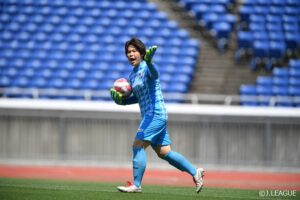 – Looking back on the season by Kotono Kirihata, the goalkeeper of Mie, which finished ninth in its first year and sustained hope for next season thanks to goals conceded
– Standing firm as a newly promoted rookie with just 21goals conceded
In the heading, the words "sustained hope for next season thanks to goals conceded" may seem contradictory.
However, having this year gained promotion to the Nadeshiko League Division 2, Veertien Mie's results well expressed the team's characteristics as it looks ahead to next season and the future. In terms of league position, the team finished ninth out of 10 teams, thus barely avoiding being dragged into the promotion/relegation series. On the other hand, the team conceded a total of 21 goals, which was the fifth best figure in the entire division and can be regarded as proof of a fine performance for a promoted team.
The contents of the team's games are also an indicator of its fine performance.
With two wins, seven draws and nine defeats, Veertien Mie had the third highest number of draws behind Okayama's 10, while seven of its nine defeats were by a single goal margin. For this newly promoted club, it was a year in which the team lost closely fought matches that could have been won by protecting or scoring a single goal. Even so, if the entire team and each member can become conscious of the team's image of winning by certainly taking chances while retaining a sound defensive base, they should have more interesting games next year.
The words "sustained hope for next season thanks to goals conceded" carry such a sense of anticipation. Looking back on the team's efforts in keeping the number of goals conceded to the fifth lowest in the division at 21, Kirihata, who was the team's last line of defense, says, "We had so many wasteful games. Even though we knew the problem, we let opponents get away from us. I was reminded of the high level of the Nadeshiko League."
– Return from retirement lasting just 10 months
Kirihata played for Harima in the Nadeshiko League Division 1, however, with numerous players around her retiring from the game due to age, she also felt that she had played enough and decided to retire at the age of 26 in spring 2019. She didn't know whether she had any regrets about football, however, on removing herself from the game, she realized that somewhere in her heart she still had the desire to play football to the full.
In Kirihata's home prefecture of Mie, Veertien was fighting hard to reach the Nadeshiko League. Her "retirement" lasted less than a year before she was given a chance and decided to put on the goalkeeper's gloves once again. In our online interview, she laughed when I remarked that it was a pretty rapid return.
"Yes, it was really just a short spell between leaving football and going back to it. After I left Harima, I am grateful that the company that supported me continued to give me employment. Since I was still watching matches, I became aware of the efforts of my hometown club Veertien in the Tokai League and I realized that the idea I had played enough was maybe not my true feeling. The idea that I had played enough (my supposed reason for retiring) wasn't true at all. My body no longer moved the way I wanted it to, and my reactions, which are so important for a goalkeeper to stop live balls, had clearly deteriorated. More than having had enough, I realized that there were many things I still had to do."
– Together with Mie of the JFL
Kirihata has received local support and currently works in a factory belonging to an affiliate of Cosmo Energy Group. Just like most other Nadeshiko Leaguers in Division 2, she works full-time, standing on a line in the factory from 08:30 to 17:00. She says that the passion for football in Mie Prefecture gives her daily encouragement as she busily balances work with football.
Veertien Mie Ladies and the Veertien Mie men's team have a beneficial environment whereby the players watch each other's matches and can also swap information, although this is unusual for the Nadeshiko League. In its "30,000 people project" regarding total attendance for the season, the men's team, which played its final game on November 20, shared a common target with supporters and established a foundation for gaining promotion to the J3 League next season by finishing seventh.
"The men come to watch our games, and it boosts my motivation when the goalkeepers comment on my playing and give me various tips on how to improve. We are lucky to also have a men's team, so I hope we can jointly boost the local area."
Kirihata says she intends to relearn the goalkeeping basics during the coming off-season. She wants to improve her kicking accuracy and acquire the fine-tuned coaching techniques that were thoroughly practiced in games by her hero and former Nadeshiko Japan goalkeeper Miho Fukumoto.
Precisely because she has experienced retirement, albeit only for 10 months, her intended destination has become clearer and her performance levels have improved. Kirihata understands more than anyone the significance and value of the words "sustained hope for next season thanks to goals conceded".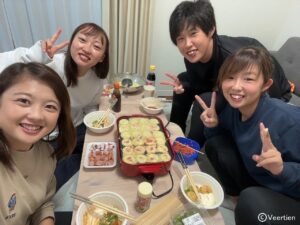 (All Teammates/Upper Left:Manon Kuwahara / Upper Right:Kotono Kirihata /Lower Left:Sachika Ishii/ Lower Right: Renna Nakamura)
Kotono Kirihata Profile
Born December 14, 1992 in Mie Prefecture. Position: goalkeeper
AS Harima Albion → Veertien Mie Ladies(since 2022)
First league appearance: April 6, 2014 at the age of 21 years 113 days
Photographs provided courtesy of J. LEAGUE (top) and Veertien Mie Ladies (bottom)
Veertien Mie Ladies website=http://www.nadeshikoleague.jp/club/veertien/