Nadeshiko Leaguers Running into the Future Episode 12 Harumi Taya (Bunnys Gunma FC White Star) 
The JLSL (Japan Ladies Soccer League) was launched as the top women's domestic league in 1989. It has been going for over 30 years and has been known as the "Nadeshiko League" since 2004. In this twelfth episode of the series, "Nadeshiko Leaguers Running into the Future", in which we re-explore the basic appeal of "Nadeshiko", namely the high degree of skill and the respective determination of players to continue playing football while balancing it with work, domestic duties, academic studies and so on, we talk to Harumi Taya (25), a goalkeeper who plays for Bunnys Gunma FC White Star. In a vote for the first half of the season conducted by the League, fans selected her for the "Best save" award.
(By Midori Masujima, sportswriter. Titles omitted in the article)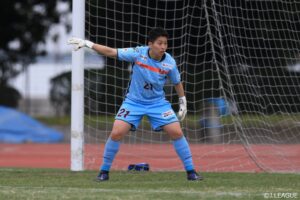 -More than making fine saves, a goalkeeper's ideal is to stay inconspicuous
During the summer break, the "Nadeshiko League" gauged the reaction of fans by implementing a Twitter summer holiday campaign to choose "Fans' favorite scenes from the first half of 2022".
In the campaign, fans voted for players in the three sections of: best goal in a season opening game, best save, and best play, and Harumi Taya(25), a goalkeeper who this season transferred from Grano Isesaki SC to Bunnys Gunma, won the most votes (29.7%) for best save.
The save occurred in the match against Nittaidai SMG Yokohama in the eighth game of the season. Following a penetrating attack down the right side, a cross was met by a diving header at an acute angle in front of the goal. With the match in the early stages and the score still at 0-0, it was a tense situation and the team didn't want to give the first goal away. Taya thwarted the danger by reacting superbly to keep the ball from going in just under the bar. The team found its defensive rhythm thanks to this save and went on to pick up a 2-0 away victory. During the interview, Taya spoke excitedly as follows.
"I am truly grateful to receive attention in this way, but it is really down to my teammates. Everybody in my workplace has also been happy for me, but a goalkeeper's ideal …"
As I listened to her choose her words, I felt as though I could anticipate what was coming next. That's because, in the course of conducting interviews with men's and women's Japan national team players, coaches, overseas players, and goalkeepers in other sports, I have come into contact with the unique mentality of goalkeepers.
"Maybe the ideal is to have games with no fine saves, isn't it?"
On hearing this, she laughed a little out of embarrassment.
"Yes. If the goalkeeper is conspicuous, it means that the opponents are creating a lot of good chances. As a member of the defense, the goalkeeper must work harder at coordinating teammates and giving instructions (audibly taking leadership).
I recalled something that a certain battle-hardened Japan national team goalkeeper had said to me: "The best games are those where the goalkeeper doesn't stand out. If you can read all the opponent's passes and shots and coordinate with the other defenders, you will only need to deal with innocuous balls. That's the interesting and tactically difficult thing about this position."
A certain "Nadeshiko Japan" goalkeeper describes this as follows: "It's interesting like a game of shogi (Japanese chess)".
During a game, when a goalkeeper collects a simple ball in an innocuous manner that nobody notices, he or she is maybe thinking "That's it! Just as I thought" and feels very happy.
If Taya's best moment this season was her "fine save" that was chosen as the best by the fans, surely her worst experience came in the tenth game of the season against Cerezo Osaka Sakai Ladies (May, Yodoko Sakura Stadium).
The team went behind in the 7th minute of the game and were 5 goals down by the end of the first half alone. Taya hoped her teammates could respond and make their mark on the game in the second half, but she let in a further 5 goals. For Taya, to concede 10 goals in a single game was a career worst.
"During the game, I was thinking that I should just quit playing football all together. I felt so embarrassed and humiliated just standing on the pitch."
Even during that game, Taya kept calling out as the last line of defense until the final whistle. Even though she knew it couldn't be effective, she did this out of pride for her position. When the match finished, rather than quitting football, she says that she strongly thought, "Never again will I play in, permit or display to the fans such a game".
She immediately asked the coach to let her check the game video and started to prepare for the next game.
Taya was born in Ibaraki Prefecture and was a late bloomer in that she didn't decide to concentrate on football until she entered Kashima Gakuen, which was in the initial stages of establishing a high school girls' football club. Since the club didn't have enough members, she played in all positions from goalkeeper to defense and even attack.
In her second year at Ryutsu Keizai University, Taya decided to concentrate on goalkeeping after her coach told her that she had a natural aptitude for the position. After graduation, she joined AS Harima Albion and became a Nadeshiko Leaguer, however, unable to fulfill her potential, she left the club and almost made the decision to retire. She then received an invitation to play for a newly established amateur team in Gunma Prefecture, where she played in a game against Waseda University in the Kanto qualifying round of the Empress's Cup.
During this match, which ended in a 0-5 thrashing, Taya says that she strangely found the situation to be enjoyable. Her teammates included junior high school girls from the club's reserve teams, and she was moved by the appearance of these young girls running hard till the end of such a tough match despite almost having leg cramps.
"I felt moved at the end of the game. Precisely because it was a heavy defeat, but I strongly felt that I wanted to play more football as a goalkeeper and take on stronger opponents."
Having confirmed her own true feeling in this way, she returned to the top Nadeshiko League once again.
Maybe the low point of her career was not the 10 goals conceded in a single game, but rather the time she decided to leave the pitch and retire from the game.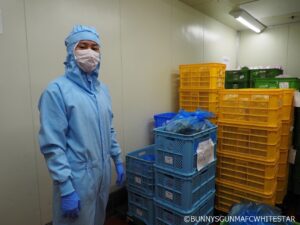 -Full-time work in a factory manufacturing convenience store noodles-
Taya has received support from and works for local company "Tamamura Delica", which manufactures noodles for 7-11 convenience stores. Assigned to the materials department of the company's factory, she is in charge of receiving the raw materials that arrive every morning. Working from 09:00 to 16:00, her job entails making sure that detailed best-before date settings are not mistaken.
She trains at three locations each week and, because she gets home late, it is midnight when she finishes work at the farthest training ground. On finishing work, she returns home to have dinner and then heads out for training, and such daily rhythm has become an important routine for her since returning to the Nadeshiko League.
Taya has experienced both joy and humiliation in the same season. When she was at university and arriving at her decision to become a goalkeeper, she says that she wondered what the fun of goalkeeping was compared to the fun of scoring goals.
"However, on returning to the Nadeshiko League, I feel that I have come to understand this, even though I conceded those 10 goals." For her team, the second half of the season started with three consecutive defeats, however, Taya didn't hang her head once during the interview."
On September 25, Taya once again came up against Cerezo Osaka Sakai Ladies. With the first half ending scoreless, it was a tense match, but the team ran out 1-0 winners and ended its losing streak thanks to a second half goal by Ami Satoh. Whereas the team conceded 18 shots in the first half of the season against these opponents, this time they limited them to six shots thanks to the team's concerted effort in maintaining a solid defense. Taya surely discovered the "fun of goalkeeping" that she had "first tasted precisely because I had experienced the depths of despair".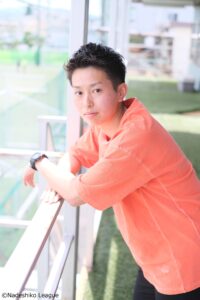 Harumi Taya Profile
Born April 1, 1997 in Tokyo. Position: goalkeeper
AS Harima Albion → Bunnys Gunma FC White Star (since 2022)
First league appearance: October 5, 2019 at the age of 22 years 187 days
Photographs provided courtesy of J. LEAGUE (top) /Nadeshiko League(center)/ Bunnys Gunma FC White Star (bottom)
Bunnys Gunma FC White Star website=http://www.nadeshikoleague.jp/club/bunnys/