Nadeshiko Leaguers Running into the Future Episode 11 Fuko Takahashi (midfielder, AS Harima Albion)
The "Nadeshiko League" is finally about to resume for the second half of the season following the summer break. Ever since the JLSL (Japan Ladies Soccer League) was launched as the top women's domestic league in 1989, it has subsequently been renamed as the "L. League" and has been known as the "Nadeshiko League" since 2004. The League has also been built by the determination of players who, in addition to displaying a high degree of skill, continue to play football in various styles, for example, balancing playing with work, domestic duties and academic studies. In this eleventh episode of the series, "Nadeshiko Leaguers Running into the Future", in which we explore the attraction of such players, I talked to Fuko Takahashi (23), whose career is unusual in that she plunged into the German League alone after graduating high school, but has since transferred back to Japan with AS Harima Albion (Himeji City, Hyogo Prefecture).
(By Midori Masujima, sportswriter. Titles omitted in the article)
Even though I know "that's just not possible!", I can't help but breaking out in laughter at Takahashi's unique way of talking.
After spending her junior and senior high school years at "JFA Academy Fukushima", the JFA's (Japan Football Association's) elite education program, Takahashi made the decision to play in Germany, where she had visited on a tour when she was in first grade at senior high school. This is how Takahashi joined MSV Duisburg in the Bundesliga, which is at the pinnacle of the women's game.
Concerning how she came to live with the family of the principal of her language school, Mr. Runitz, Takahashi says, "My teacher was the company president and lived with his wife and three sons, and I thought it was great that I could have my own room".
The German principal didn't speak in an Osaka accent, however, Takahashi recalls the events using the Osaka dialect. No doubt, as an 18 year-old, she experienced difficulty dealing with the different environment and language barrier, however, listening to her talk animatedly in her Osaka style, one can't help but laugh.
Takahashi uses Osaka dialect to reproduce her communications with her teammates. At Duisburg and her next club of Leipzig, players fight for the ball even more intensely than they do in Japan. One time, when an opponent got past her at side back, and she let the opponent get through one-on-one with the goalkeeper because she wanted to avoid making a foul.
"At the time, my teammates were telling me to pull her shirt or foul her. They said that I had to go in hard to stop the danger."
I'm sure that her teammates didn't shout at her in Osaka dialect, however, while listening to Takahashi's unique way of describing the situation, I sensed the inner toughness of this footballer who took the plunge to leave Japan when she graduated high school. Whether she is learning German or speaking in English, she never changes the roots of her words. Takahashi exudes such strength.
Ever since Takahashi first came into contact with a football at the age of three, she says that she never stopped dreaming of becoming a football player and that she single-mindedly aims to play for Nadeshiko Japan. In the spring of her first year at senior high school, she visited Duisburg and Essen on a tour of Germany with the JFA Academy. Around this time, since Germany had won gold medal in the 2016 Rio de Janeiro Olympic Games, Takahashi hatched the idea of transferring to Germany so that she could experience the strongest women's football in the world.
In February 2017, Takahashi achieved her long-cherished move to Germany and made her debut in Division 2. However, things were not so easy that a Japanese teenager could appear in matches simply by quietly working hard in training. Using the "live German" that she had learned by staying in the home of her language school principal, she desperately negotiated to be allowed to join the top team. She duly received the opportunity to train with the top team, where her flexibility in filling numerous positions such as defensive midfielder and fullback was recognized, and she earned a professional contract the following November.
"Life in Germany was really enjoyable," she recalls. Because she had games at the weekends, it was difficult to go out with the principal's family, however, general German holidays gave her the opportunity to see how families spend time by gathering on the Rhine River for picnics and the like, going shopping or going to theme parks, and she experienced a different way of life than in Japan. She enjoyed spending such time with friends in parks surrounded by nature and was greatly soothed by such unhurried times.
"On holidays in Germany, people don't go to the shops to buy things, but rather they like to have fun together by the Rhine. Since I never had such experiences in Japan, I liked those times."
She says that she also had a special experience.
Around the time Takahashi was embarking on her lone challenge in a foreign land, she had exchanges with a German man called Michael, who supported her on social media. He would always encourage her by saying, "You are amazing for working so hard by yourself in a strange foreign country". He was a Bayern Munich fan, and when he spent eight hours traveling by bus to see the game between Duisburg and Bayern, Takahashi saw for the first time that he was in a wheelchair. She never realized this from her correspondence with him, but says that she was truly moved when she found out.
On seeing Michael spend eight hours traveling to the stadium to support football despite being in a wheelchair, she realized that handicaps are irrelevant. In addition to Michael, everyone recognized and supported the courage of Takahashi as a teenager who had traveled from Japan to Germany.
"That's why I could recall the faces of these people and do my best, no matter how hard or difficult the times."
Takahashi was transferred to Leipzig for the 2019-2020 season. There, she observed and absorbed the high level of skill and decision-making ability to decide matches of players who were representatives of the German and Austrian national teams. Around the time she was starting to feel a good response at her second club in Germany, Europe became engulfed in the COVID-19 pandemic, and Takahashi made the decision to return to Japan.
Takahashi returned to Japan, compiled her CV and approached Harima for a tryout. Appealing her strong points of being able to play defensive midfield, having strong medium-range shooting ability and being tenacious in the tackle, she was given a chance. Although she didn't play in games from the start, she was given the heavy responsibility of dictating the play in the second half of games.
During games, she carefully monitors the position where she is likely to be deployed and the movements of the other players. Having played for two clubs in Germany, she has acquired the ability to predict situations. The JFA Academy also encourages junior and senior high school players not to become fixed in certain positions, and Takahashi also has the flexibility to play left and right fullback, defensive midfield or even more attacking positions.
On joining Harima, she has been reminded of the high level of technique and tactical understanding of players in Japan. Meanwhile, concerning the tackling tenacity and the national team-level individual skills that were drummed into her in Germany, she says, "I want to further hone them in the Nadeshiko League". During the summer break, she has been working every day on improving her personal issue of stamina and feels like she is making progress. Her team finished the first half of the season in fifth place (25 points, at the time of the interview) and looking to the teams above, and the club is ready to make a rally in the second half.
On September 23 and 27, the Japan national team, as part of its preparation for the FIFA World Cup in Qatar, will play two international friendly matches in Dusseldorf, where Takahashi spent roughly two years. On hearing this, she muttered, "Wow, I feel so nostalgic".
In the same way that she has grabbed a precious chance in Japan's Nadeshiko League, Takahashi also dreams of one day playing in the rapidly developing leagues of Australia and Portugal if she gets the chance. In my mind's eye, I imagined this 23 year-old player holding on to both a football and a globe with a smile on her face.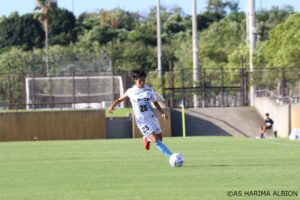 Fuko Takahashi Profile
Born November 2, 1998 in Osaka Prefecture. Position: midfield
JFA Academy Fukushima → MSV Duisburg II→ MSV Duisburg I → RB Leipzig→ AS Harima Albion (since 2021)
First league appearance: April 28, 2013 at the age of 14 years 177 days
Photographs provided courtesy of AS Harima Albion
AS Harima Albion team website = http://www.nadeshikoleague.jp/club/a_harima/