Nadeshiko Leaguers Running into the Future Episode 10 Ai Yokoyama (midfielder, Ehime FC Ladies)
The JLSL (Japan Ladies Soccer League) was launched as the top women's domestic league in 1989. It was subsequently renamed as the "L. League" and has been known as the "Nadeshiko League" since 2004. Some players hold down full-time jobs; others continue playing football while balancing it with household duties or studies; and others remain positive without giving up in the face of various adversities. The Nadeshiko League has blazed a trail with players who love football with distinctive styles that set them apart from their professional counterparts. In this tenth episode of the series, I talked to Ai Yokoyama (29), a midfielder who plays for Ehime FC Ladies, about the reasons behind her strength in returning to the pitch despite suffering knee anterior cruciate ligament injury, which is regarded as a career-ending injury, three times.
(By Midori Masujima, sportswriter. Titles omitted in the article)
Yokoyama laughs when she says that, as a little girl who started playing football at a small town club in Hyogo Prefecture, her future footballing dream was "nothing in particular".
It was a very comfortable club where she enjoyed playing football, and her mother would drive her for over an hour to and from Himeji City when she was at junior high school, however, as Yokoyama progressed from junior high and then to senior high school, she also needed to consider reality.
Since Yokoyama couldn't feel confident about herself as a football player, she studied hard at one of the best schools in Hyogo Prefecture with a view to entering a public university in the prefecture. When she was in second grade at senior high school, she saw the female football players of Tsukuba University competing on equal terms with prestigious teams and powerhouses in the All-Japan intercollegiate championships, and this allowed her to develop her own football target for the first time.
"My feeling was immediately transformed to wanting to play football at a team like that. Since I have a diehard spirit and don't consider myself elite, I empathized with the Tsukuba style and felt like taking on the challenge of seeing how far a small fry like me could perform."
With her target thus established, Yokoyama could direct her energy into her studies. She passed the entrance examination and for the first time in her life left Hyogo and started living alone. In June 2012, in high spirits and having realized her dream of joining a women's football team that she had aspired to, she damaged her right knee ligament when challenging for a loose ball. It was a major injury that occurred just as she had become accustomed to her new environment.
However, Yokoyama didn't get too despondent. It was a bad injury, but she was also rescued by the university's environment. Following her operation, she commuted to a training facility known as SPEC (Sports Performance and Clinic Lab) and became interested in rehabilitation and training with athletes from other disciplines.
"Why get discouraged? Everybody around me had this positive attitude and was determined to become stronger. That's the attitude I adopted too."
At the time, Yokoyama could never have imagined that she would later experience the pain of operations and rehabilitation two more times. At this time, her youthful vigor helped her battle through the tough rehabilitation and make a comeback in the summer of her second year. Her career progressed smoothly: in her second year, her team were runners-up in the All-Japan intercollegiate championships, while in her fourth year, she won a bronze medal at the 2015 Summer Universiade in Gwangju.
On graduating, Yokoyama chose to continue her challenge at JEF United Ichihara Chiba Ladies, a powerhouse of the Nadeshiko League and home to a number of "Nadeshiko Japan" national team players. Looking back, she says that she chose JEF because, as a small fry, she had a strong yearning to play on the top stage with the best players in Japan.
Having joined a club vying to be the best in Japan, Yokoyama once again damaged her right knee anterior cruciate ligament in a contact play during training in June.
She didn't let her second injury get her down. Utilizing the experience she had gained at university, she compiled a rehabilitation menu with a view to making a quick return. Yokoyama made her comeback in 10 months, however, she then experienced a tough period of not being able to play due not to injury but rather ability.
She was surrounded by players who had performed at the top level since childhood. Yokoyama says that she was overwhelmed by their humility in doing non-football training without fail and playing with pride despite shouldering constant heavy pressure.
"Totally unlike small fry, elite players have elite, unshakable strength. Although I didn't get to appear in games, I really learned a lot during my three years at JEF."
In search of game opportunities, Yokoyama says, "I wanted to completely change my career in a totally new environment." Accordingly, looking elsewhere than the Kansai region where she had grown up and the Kanto region where she had played at university and her first professional club, she directly approached Ehime FC in Shikoku and asked to be given a tryout.
Although Yokoyama was allowed to transfer, she discovered that she had a damaged meniscus (cartilage that supports knee movement) in April. As she recalls, "This time I thought it was the end" and she made a decision to retire. However, she couldn't bring herself to say "I'm retiring due to injury" without giving anything back to the club that had given her a tryout. Just as she was contemplating informing the club after undergoing a meniscus procedure, she ended up having an anterior cruciate ligament strengthening procedure before she could even sort her feelings out. On finishing the reinforcement procedure, which involved grafting the tendon, the club and her doctor warmly advised her, "don't rush and get better in your own time".
In contrast to her first rehabilitation, when she was surrounded by top university players, and her second rehabilitation, when she tried various methods to return to a powerhouse team as quickly as possible, this time, maybe because of the climate in Ehime and character of the local people, she stopped rushing and allowed herself time to heal slowly and naturally. Her rehabilitation work in a local gym was also more enjoyable than in the past.
"Since I was going to a regular gym, elderly members and other women would ask me questions. They asked if I played for Ehime Ladies and gave me words of encouragement while telling me not to rush things. I was truly grateful for their words and they made me very happy."
With the support of the community, Yokoyama was also stimulated by the young players on the team. She became interested in activities for spreading football. Currently, she works from 09:00 to 15:00 as an employee of the Matsuyama Branch of Aioi Nissay Dowa Insurance Co., Ltd. Actually, she worked for the same employer when she was a JEF Chiba player. When she left JEF and told her boss about her desire to retire from the job and take on the challenge of having a tryout and playing in a new place, her boss gave her some unexpected advice concerning her mode of employment. He said, "If you play football in a place where we have a branch office, you could transfer there."
It is very unusual for a female athlete to experience an injured anterior cruciate ligament three times. However, Yokoyama doesn't complain. She has silently withstood the painful rehabilitation and training with a smile. It wasn't only operations and tendon graft procedures that repaired and strengthened her ruptured ligament.
On finishing the interview that was filled with laughter from beginning to end, I thought about asking, "What will you do if you get another major injury?" but stopped myself.
I felt like I understood what her "answer" would be. Before talking about whether or not she could return, I'm sure she would say, "First, I will rise up and look forward."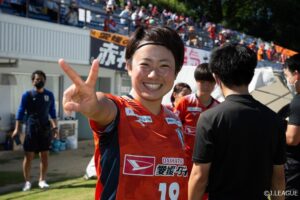 Profile Ai Yokoyama
Born June 4, 1993 in Hyogo Prefecture. Position: midfielder
Tsukuba University → JEF United Ichihara Chiba Ladies → Ehime FC Ladies (since 2019)
First league appearance: March 27, 2016 at the age of 22 years 297 days
Photographs provided courtesy of Ehime FC Ladies (top) and J. LEAGUE (bottom)
Ehime FC Ladies team website=http://www.nadeshikoleague.jp/club/ehime_l/