Nadeshiko Leaguers Running into the Future Episode 9 Kanako Asakura (midfielder, Nittaidai SMG Yokohama)
The JLSL (Japan Ladies Soccer League) was launched as the top women's domestic league in 1989. It was subsequently renamed as the "L. League" and has been known as the "Nadeshiko League" since 2004. The Nadeshiko League has blazed a trail with players who approach football in a variety of styles that set them apart from their professional counterparts, for example, players who hold down full-time jobs, players with household duties, and players who are students at university or high school. In this ninth episode of the series, "Nadeshiko Leaguers Running into the Future", we report on a team composed primarily of university students. Dependable rookie player Kanako Asakura (19), who has appeared for a total of 1,305 minutes in all 15 matches up to the summer break, leads a busy but fulfilling daily life in which she balances football with studies.
(By Midori Masujima, sportswriter. Titles omitted in the article)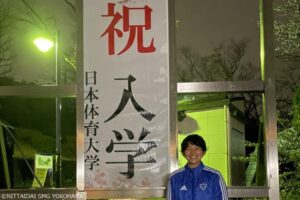 – Taking on the rookie year challenge with powers to absorb like a super sponge as her prime quality
– A week of scurrying from lessons in football, stretching and volleyball to training
I first asked rookie player Kanako Asakura about her busy days of balancing lessons with football as she pursues both academic and sporting credits in her quest to "also obtain a teaching license" in the future. "Just a moment", she says as she confirms her schedule…
Monday: No fourth period (finish at 16:30).
Tuesday: The fourth period is football. If you think this is easy because it's my specialty, think again. Working as an assistant instructor to the teacher, I have to teach classmates who have no footballing experience how to keep the ball up 10 times. Students who specialize in football have to do three cycles of keeping the ball up with the instep, inside of the foot, outside of the foot, thigh, head, and chest respectively. After finishing quite a hard menu, I go to training from 19:00.
Wednesday: The fourth period is stretching. It's a difficult lesson that cannot be absentmindedly approached with an attitude of killing two birds with one stone and limbering up for training. Students take the lesson after first learning about all the muscle regions and functions. Thanks to the things I have learned in this lesson, I am free from injury this season. She heads for training with a good feeling.
Thursday: The fourth period is volleyball. Although this is another ball game, it's not that simple. The lesson entails conducting rallies in pairs, however, the same pairs only stay together for two rallies.
Losing patience at my lack of ability, the teacher finally gives some advice. "Imagine you are heading the ball in football. Keep your eyes on the ball until you hit it!" Immediately, I can spike better. More than technique, I learn the importance of "verbalization", i.e. conveying sport through words.
Friday: There is no lesson immediately before training, however, I must prepare for a game on the next day. Although four months have passed since I joined the team that I aspired to, I still cannot get accustomed to the tense atmosphere that surrounds the high-level training.
Apart from this daily schedule, Asakura attends goes on trips and plays games at weekends. This 19 year-old smiles cheerfully as she describes this physically demanding schedule as "incredibly enjoyable".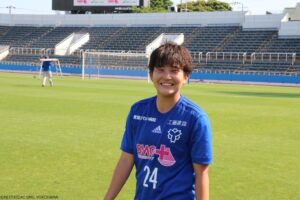 Similarly, Shinomi Koyama of Cerezo Osaka Sakai Ladies, who was featured in Episode 7 and was a member of the Japan national team in the FIFA U-20 Women's World Cup in Costa Rica, laughed about her busy life of hurrying between the "football triangle" of home, school and training ground when she said, "I have never thought of it as hard! I wouldn't know what to do without football."
These young women do not consider their schedules to be "hard" at all. Rather, they merrily and energetically seem to be clearing the small hurdles that keep appearing before them every day. Despite their tender years, their vigor and desire to improve and take on new challenges give these women the power to inspire others.
Asakura has appeared as a defender (center back) for a total of 1,305 minutes in all 15 matches up to the summer break. The team's coach, Shigehisa Ohtsuki, who aims to lead a rally from seventh place in the second half of the season that starts on September 2, is undoubtedly placing a lot of expectations on such power. Playing for more than 1,300 minutes puts Asakura among the top class in the league, and her outstanding talent can be sensed from her physical strength and conditioning ability too.
– Glimpsing a special career from careful word selection
Many promising high school players struggle to adjust to a new environment after they advance to university.
I ask Asakura, "Did you experience any such difficulty?"
"Getting used to the high level and totally different speed was tough, but the environmental change was not so bad."
"Really? You didn't experience a gap between the team and your expectations, or receive any harsh treatment from your seniors?"
"The senior players are very kind and teach me everything. They are really all wonderful people. For me, Nittaidai seemed far removed and I never imagined that I would play represent it in games. The fact that I am allowed to appear in games really boosts my motivation!"
Expressions such as "teach me everything" and "I am allowed to appear in games" are indicative of Asakura's core attitude regarding football.
It can be said that this university rookie has acquired especially rich experience in her career.
Born in Tottori Prefecture, she started playing football seriously at the prestigious local team "Umbigo FC". After graduating Daiei Elementary School, she gained admission to JFA Academy Sakai hosted by the Japan Football Association (JFA), meaning that she lived apart from her parents from an early age.
"I think I learned various things by living away from my parents in a dormitory from junior high school. I had to think about cooperativeness and consideration for others."
Her gracious approach to life is expressed in her words. While living in the dormitory, she commuted to Sakai Municipal Tsukisu Junior High School. On weekdays, she trained and took classes at Academy Sakai, while on weekends, she commuted by express bus to Yunogo Belle in Okayama, where she was the only member of the youth team still attending junior high school.
After graduating junior high school, she played for the football club of Osaka Gakugei Senior High School. As I talked to Asakura, I imagined her taking onboard all things in the same way that a high quality and strong natural sponge absorbs water.
Someday I hope to challenge for a place on Nadeshiko Japan
Asakura received elite education at the Academy; she acquired technique at Yunogo Belle; and she honed her application performance at Osaka Gakugei Senior High School. This flexibility that has allowed her to absorb so many contrasting styles and abundant guidance at so many clubs is her distinctive quality.
Even her current position of defender was something that she tried only once before in her high school days.
"Since I have been taught that it is important to be able to play in any position, I have experienced midfield, forward and side-half positions. I was initially bewildered when I became a defender, but now I enjoy it."
During this break, Asakura has realized the importance of "coaching" for defenders. She mentions various areas where she needs to improve; for example, she wants to communicate to her teammates more effectively so that, rather than simply preventing attacks herself, she can acquire the intelligence to limit passing and shooting courses.
"Currently, I am doing my best to keep my place in the team, but someday I hope to challenge for a place on Nadeshiko Japan." We look forward to seeing that day arrive.
I wonder what day it is today. From which lesson will Asakura be running to the training ground?
Kanako Asakura Profile
Born April 3, 2003 in Tottori Prefecture. Position: midfielder
Okayama Yunogo Belle U15 → Osaka Gakugei Senior High School Girls Football Club → Nittaidai SMG Yokohama (since 2022)
First league appearance: May 18, 2019 at the age of 16 years 45 days
National team appearances:
U-16 Japan women's national team member
Photographs provided courtesy of Nittaidai SMG Yokohama
Nittaidai SMG Yokohama team website=http://www.nadeshikoleague.jp/club/f_nittaidai/