Nadeshiko Leaguers Running into the Future Episode 8 Risa Urashima (midfielder, Orca Kamogawa FC)
The JLSL (Japan Ladies Soccer League) was launched as the top women's domestic league in 1989. It was subsequently renamed as the "L. League" and has been known as the "Nadeshiko League" since 2004. In this eighth episode of the series, "Nadeshiko Leaguers Running into the Future", in which we re-explore the basic appeal of "Nadeshiko", namely the high degree of skill and the single-minded determination to continue playing football while balancing it with work, domestic duties and academic studies, we talk to Risa Urashima (27), a midfielder and the captain of ORCA Kamogawa FC, which has numerous players who work in "Kameda General Hospital". I asked her about how she handles the challenge of balancing the two high-pressure jobs of medical worker confronted with the COVID-19 pandemic, and football player.
(By Midori Masujima, sportswriter. Titles omitted in the article)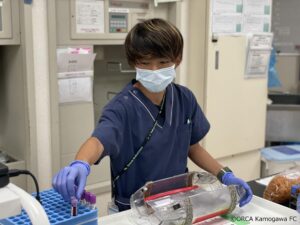 – Days of dealing with footballs and "specimens"
Over the past two years, Risa Urashima, the captain of ORCA Kamogawa FC, has adhered to the playing rules of football, but there are other rules that she and the players of ORCA have faithfully upheld. As "medical workers" employed by Kameda General Hospital, which supports local medical care services, they have had to follow strict measures to prevent COVID-19. It surely hasn't been an easy way of life.
Following the start of the battle against COVID-19 in 2020, it wasn't until June this year that team members were allowed to attend dinner gatherings. Even when rules concerning dinner parties were being relaxed in general society, the players of ORCA continued taking allocated box meals home and eating individually. Moreover, with infections growing again at an unprecedented rate, the players have returned to eating separately.
Even though people are encouraged to remove masks when they do exercise outside, ORCA's players keep their masks on when training. Even when they finish training, the number of people who can enter the prefabricated changing rooms is limited. Accordingly, the team captain has to carefully monitor conditions in the same way she tracks the ball in games to ensure that the said limit is not exceeded even by one person.
Urashima is relieved that there has only been one infection among team players and officials. "More than me displaying leadership as the captain, I'm grateful to say that this has been the result of everybody's efforts as medical workers staying aware of the absolute necessity to keep the virus out of the hospital."
Many of the ORCA FC players continue to play football while working in Kameda General Hospital. In January 2020, when the full picture of COVID-19 still had not been revealed, this hospital undertook examinations and health checks for 170 Japanese nationals returning from Wuhan in China, implementing infection prevention measures and conducting isolated hospitalization of positive cases, and it earned high international praise for being one of the first hospitals in Japan to undertake such difficult initial response activities.
The hospital also conducts an active public information campaign to prevent negative rumors about returning nationals segregated in local hotels and alleviate unease among citizens, and it seems that the players of ORCA have strived hard to fulfill their role of connecting with local people as football players and medical workers.
Urashima works in the clinical examination department. As someone who says, "I'm not good at talking with people", she asked her department to give her a job using a PC rather than work that entailed directly meeting patients. The clinical examination department, to which she was assigned, is a specialist department that is responsible for duties up to inserting the small Spitz tubes containing blood and urine samples into centrifugal separators.
"Since we deal with precious specimens taken from each patient, mistakes are not allowed. Especially in the midst of the COVID-19 pandemic, there has been a high level of tension."
As a core staff member who has worked in the clinical examination department for six years, I can imagine her efficiently conducting her work. After finishing work at 15:00, she switches her attention to training, in which she experiences a separate type of tension.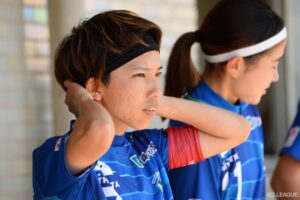 – "All-out" efforts promoted by coach Noda
Training begins neither at 16:00 nor at 16:30, but at 16:15. This is a new initiative that was adopted this season. Before Akemi Noda was appointed as the coach, training started at 16:30, however, there is a reason why the start time was brought forward by 15 minutes. Because players have different work times in the hospital, the team gathered after each player had conducted their own running and stretching warmups.
The new coach brought the training forward by 15 minutes and changed the style so that all of the players conducted warmup together. Having belonged to the team for six years, Urashima also welcomed this policy, calling it "a very refreshing change".
"There is a big difference between doing stretches as a group and doing them alone at the start of training. Everyone has become positive from the warmup. They recognize the value that the extra 15 minutes has imparted."
The coach has also changed the time spent training. The training starts at 16:15 and finishes entirely at 18:00. The policy is to concentrate all the training into essentially one and a half hours and to avoid having extra training or individual shooting practice as much as possible. The coach refers to this initiative as "All Out".
According to training terminology, this refers to the limit beyond which exercise can no longer be physiologically continued, however, the coach demands that the players "end training after getting all their energy out".
"The coach demands that we conduct concentrated training and finish in 90 minutes. Thanks to this method, I am now able to smoothly switch between on and off times. Because the training is shorter and finishes earlier than before, even though it is more intense, I feel recharged because I can get plenty of care and rest."
At the time of the summer break, ORCA currently lies fourth in the table with 26 points. In particular, they have conceded only eight goals, which is the same number as first-placed Iga FC. The team is challenging for the top places by limiting goals against to zero through its characteristically tenacious defending, while clinically taking its goal opportunities. The captain says that the players want to thoroughly penetrate this style through the entire team as they look to rally in the second half of the season.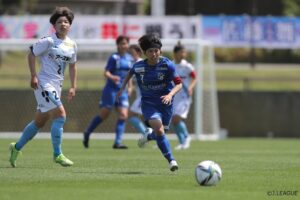 – I missed the supporters
Urashima's supervisors and colleagues in the clinical examination department avidly come to support her not only in games but also in training. In her sixth year with ORCA, the COVID-19 pandemic has provided her with an opportunity to once again realize how much the team is supported and watched over at first hand in the community. Looking back over the games played and training conducted without any supporters, she says, "It was really lonely having no supporters."
Apart from Urashima who works in the clinical examination department, other players who work in the hospital conduct clerical work, support patients as escorts, or provide everyday assistance to patients who are admitted to the hospital.
Urashima personally would like to participate in the professional WE League and concentrate on football rather than perform this kind of balancing act. However, as opposed to individually turning professional, Urashima stresses her desire for "all members to aim for the top together".
ORCA's players play hard on the pitch while combatting COVID-19 by upholding movement restrictions that are much harsher than the infection prevention measures adopted by the football world, and their example imparts courage to the local community.
"Since this is the first club I have played for that doesn't have a vice-captain, at first I was nervous about having to coordinate things and speak well in front of the players as the captain. Now, I rely on their support and gratefully accept their help. I'm not good at talking with people …"
As she spoke, Urashima once again displayed her shy smile.
Risa Urashima Profile
Born October 14, 1994 in Kanagawa Prefecture. Position: midfielder
ORCA Kamogawa FC (since 2017)
First league appearance: April 2, 2017 at the age of 22 years 170 days
Photographs provided courtesy of ORCA Kamogawa FC (top) and J. LEAGUE (middle and bottom)
ORCA Kamogawa FC team website=http://www.nadeshikoleague.jp/club/orca/