Nadeshiko Leaguers Running into the Future Episode 7 Shinomi Koyama (Cerezo Osaka Sakai Ladies)
The JLSL (Japan Ladies Soccer League) was launched as the top women's domestic league in 1989. It was subsequently renamed as the "L. League" and has been known as the "Nadeshiko League" since 2004. In this seventh episode of the series, "Nadeshiko Leaguers Running into the Future", in which we re-explore the basic appeal of "Nadeshiko", namely the high degree of skill and the single-minded determination to continue playing football while balancing it with work, domestic duties and academic studies, we talk for the first time to a high school student, Shinomi Koyama (17) of Cerezo Osaka Sakai Ladies. She is currently developing at a rapid rate and was selected to last year's Best XI. I asked her about her ambitions looking out from the Nadeshiko League to the world and her busy daily life chasing a ball at school, in training, and in matches
(By Midori Masujima, sportswriter. Titles omitted in the article)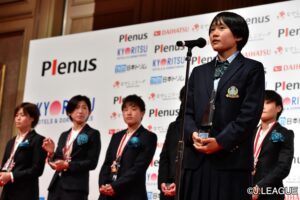 – Self-improvement and growth through a "Shinomi notebook"
When her lessons at high school finish, Koyama parts from her friends and spends approximately one hour traveling to the training ground of Cerezo Osaka Sakai. After training, she spends another hour or so returning home. Reflecting on her busy life of hurrying between the "football triangle" of home, school and training ground, she smiles, "I have never thought of it as hard! It is so much of a football-centered life that I wouldn't know what to do without football."
The power of this 17 year-old running into the future comes across through the Zoom screen so much that I feel embarrassed about asking negative questions such as, "Don't you get tired every day?" or "Isn't it hard continuing to play football at a top-level club?".
Last year, the club suddenly lost a lot of players to the newly established WE League, so it had to reorganize with mainly high school students. Despite being a youthful team with an average age of around 18 years old, under the guidance of coach Tomoya Takehana, the team refined an aggressive playing style featuring bold vertical offense and achieved an outstanding third place finish with 10 wins, eight draws and four defeats.
Koyama, who symbolizes this team, last year scored nine goals and became the youngest ever player to be selected to the Best XI. Her innocent appearance as she posed on the stage in her high school uniform at the awards ceremony made a lasting impression. This season, too, her technical skill, which is praised as something not to be missed by teammates and rival teams alike, is drawing attention and expectations.
Despite appearing to be invincible, this 17 year-old player experienced her first ever slump last summer. Finding herself unable to score a goal or play in the way she wanted, she felt like she was causing trouble to her teammates, and this further impacted her game. Looking back on that time, she says, "I was unhappy about being so ineffective and missing shots, and I cried a lot after games." Around this time, Daisuke Takahashi (currently the coach of Cerezo Osaka), who was in charge of team strengthening at the time, reached out to her.
"You have to focus more on yourself. Rather than worrying about causing trouble for others, review your own game."
Having been advised to focus more on herself, Koyama considered her mental fragility to be her particular issue. After that, she made it a custom to write a daily journal of her football activities in a large-sized notebook. Rather than fluctuating between hope and despair at her own mistakes and plays, she naturally learned to consider the people around her and how to switch her mood without letting mistakes drag her down.
She also devoted time to voluntary practice and clarified her own goals. It seems that her innate footballing sense was further refined by keeping a daily journal.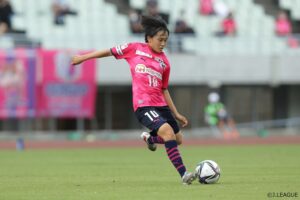 – Dreaming of being a Nadeshiko Japan World Cup winning member
When "Nadeshiko Japan" won the FIFA Women's World Cup in Germany in 2011, Koyama was still too young to have her own footballing objectives, however, she recalls with a smile, "I remember everyone being so radiant and sparkling". Now, she dreams of becoming a member of the Nadeshiko Japan team that wins the World Cup for the second time.
– Joining Nadeshiko Japan
– Aiming to become the top fullback
– All-round play in offense and defense
Despite being only 17, Koyama has clear targets. She carefully studies videos as she analyzes and aims to learn from and incorporate the playing styles of various players. For example, she wants to incorporate the dribbling course selection and switching technique of Kaoru Mitoma, who will appear in the FIFA World Cup in Qatar.
Among overseas players, she cites the case of Kevin De Bruyne (Belgium) as a player from whom she can learn a lot from. Koyama of course watched De Bruyne's ultra-fast dribbling that sunk Japan in the round of 16 game against Belgium in the 2018 FIFA World Cup in Russia.
"De Bruyne … Do you know Rostov's 14 Seconds?"
Once again, I asked a negatively nuanced question based on a shattering experience. However, Koyama coolly nodded "Yes" and commented, "I think he has predictive ability with an eye to scoring, and he has amazing positioning".
If Koyama could incorporate all the attributes of Mitoma and De Bruyne, it's exciting to think how far the overwhelming individuality of this player, affectionately known as "Shinokan" by supporters, could develop. The official of a certain club has said, "The president Hiroaki Morishima is also closely watching her play", hinting at the high level of expectation that club legend "Morishi" holds regarding Koyama.
Koyama has a clear idea of both her future objectives and the type of player she wants to become.
– Become a player endowed with high tactical understanding who can handle various playing styles
– Become a player who can always pursue technique
– Become a player who can decide the outcome of matches
With the FIFA U-20 Women's World Cup to be held in Costa Rica in August, Koyama has also been selected to take part in national team training camps. Japan is pitted against Ghana, USA and the Netherlands in a tough Group D however, Koyama says, "I'm looking forward to playing against USA. I will find out whether I can compete against the rest of the world."
Since this tournament was postponed from 2020 due to the COVID-19 pandemic, the level of anticipation is even higher. (*Koyama was selected to the Japan squad for the FIFA U-20 Women's World Cup that was announced on July 12).
On the day of the interview that was conducted in between Koyama's busy schedule moving between school, training and games, she spoke joyously about playing one-on-one in a nearby park against her older brother, who plays football at university.
"Playing one-on-one, I ripped my socks! Before, I used to cry even when I lost to my brother."
The gleaming and radiant figure on the screen was not a Nadeshiko but rather Koyama herself.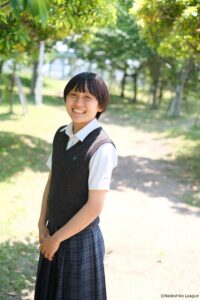 Shinomi Koyama Profile
Born January 31, 2005 in Osaka Prefecture Position: defender
Cerezo Osaka Sakai Girls → Cerezo Osaka Sakai Ladies (since 2019)
First league appearance: April 15, 2018 at the age of 13 years 74 days
Awards:
2021 Plenus Nadeshiko League Division 1 Best XI
National team appearances:
U-16 Japan women's national team member
U-17 Japan women's national team member
Photographs provided courtesy of J. LEAGUE (top and middle) and Nadeshiko League (bottom)
Cerezo Osaka Sakai Ladies team website=http://www.nadeshikoleague.jp/club/c_osaka_sakai/