Nadeshiko Leaguers Running into the Future Episode 6 Kanna Moriya (midfielder, Ange Violet Hiroshima)
The JLSL (Japan Ladies Soccer League) was launched as the top women's domestic league in 1989. It was subsequently renamed as the "L. League" and has been known as the "Nadeshiko League" since 2004. In this sixth episode of the series, "Nadeshiko Leaguers Running into the Future", in which we re-explore the basic appeal of "Nadeshiko", namely the high degree of skill and the single-minded determination to continue playing football while balancing it with work and domestic duties, we talk to Kanna Moriya (23), a midfielder who this year transferred from Changnyeong WFC in the South Korean WK League to Ange Violet Hiroshima. She talks about the attraction of the Nadeshiko League that she rediscovered after playing abroad, her dreams for the future, and her favorite idols.
(By Midori Masujima, sportswriter. Titles omitted in the article)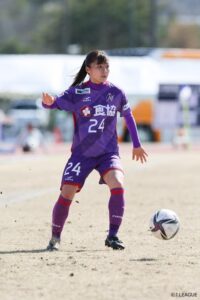 – Aspirations realized through football
Moriya: "I had a really hard season in South Korea. Last summer I was set to move to Serbia, however, I couldn't travel due to the COVID-19 pandemic."
Writer: Serbia? The capital city of Belgrade has a number of football clubs. Were you going to join a women's team there?"
Moriya: "No, it wasn't in Belgrade. Erm, what was the name? It may have been a more provincial place."
Writer: ""May have been"? Even though you were going to go to a new country, you are either a challenger or reckless…"
The interview with Moriya, who was also joined by Ange Hiroshima's PR officer Hiromitsu Miyachi and a Nadeshiko League press officer, was progressing smoothly. However, as we were talking about how she left the South Korean women's club Changnyeong WFC, her first overseas club, and moved to Hiroshima, everybody's face and voice froze when she mentioned her transfer to Serbia. It was as though the Zoom screen had frozen due to poor reception.
One could imagine that she couldn't remember her intended club or its location because they were in the Serbian language. On watching Moriya's expression as she struggled to recall the club and the city, the other three members were taken aback by her easygoing nature and froze. Mr. Miyachi broke the tension with a joke.
"Err, do you know the club you currently belong to?"
With a beaming smile, Moriya innocently replied.
"Yes, no problem. I know!"
The other three members laughed heartily.
Born in Kanagawa Prefecture, Moriya graduated Kaishi Gakuen (Niigata) and joined the prestigious women's football club Okayama Yunogo Belle (currently in Nadeshiko League Division 2), where she played for four years. From there, she transferred to Changnyeong WFC (based in Gyeongnam) of the South Korean women's football WK League.
Since Nanase Kiryu (32), who was the captain at Yunogo and appeared for the Nadeshiko Japan women's national team as forward, had also transferred to the same club, Moriya decided that she too, for the first time, would join an overseas club and fulfill a dream she had held since she was a child.
In addition to aiming for a high level of skill, Moriya had a special reason for continuing to want to play football overseas, whether in South Korea or Serbia.
Moriya started playing football seriously for SFC Junior based in her hometown of Hiratsuka, Kanagawa Prefecture. When she was in first grade at junior high school, she appeared in the One Nation Cup, which originated in the town of Werder Bremen, which was also the team of Yasuhiko Okudera, who was the first Japanese to play in Germany. She participated on the junior team of Shonan Bellmare with support from a number of clubs in this children's international tournament, which was established by players and officials of Bremen. In this tournament, which also had participants from the United States, the Netherlands and Germany, Moriya says that she experienced the wonderful attraction of making friends regardless of language barriers and differences in culture.
She realized that a single football could make this possible.
"Even though we cannot understand each other's languages, we can have mutual understanding. Having realized that football is endowed with such attraction, I came to yearn to someday play overseas."
This desire to "try going where I am needed", even if it may be a small unknown club in Serbia rather than a famous European club or powerhouse, is the source of Moriya's courage and broad-mindedness that enables her to pack her boots in a suitcase and fly off.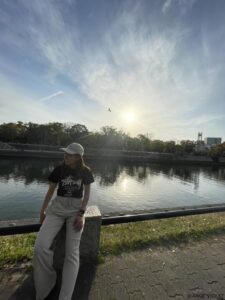 – From South Korea to Ange. Differences in football
In South Korea, where she first realized this dream, she played hard despite feeling bewildered by a more physical game that emphasized speed and one-on-one strength. However, out of 21 league games, she only made seven appearances. This was also a difficult time due to cool relations between Japan and South Korea. She heard that friends who treated her kindly were the target of remonstrances by people who said, "Why are you so friendly with the Japanese?". On leaving the club, she received support from friends and obtained the chance to move to Hiroshima with the desire to become a better player and aim for selection to the Japan national team. No doubt Serbia and Hiroshima were clubs written on the same football map in Moriya's mind.
Currently, she trains in the morning, while in the afternoon, she does office work at the auto parts manufacturer Y-tec, which supports the club.
In South Korea, it was important to appeal individual skill, however, on returning to the Nadeshiko League, Moriya was reminded of detailed cooperation in defense and the organizational capacity to bring the best out of teammates. Moreover, she says that her experience in South Korea has given her a renewed appreciation for fair play and the Nadeshiko style in which clubs strongly express their own characteristics.
With her team currently lying in 11th place with seven points (*), Moriya ruefully says, "As a fullback, not only do I need to defend, but I also want to participate more actively in attack and be involved in making goals and assists."
– Leveraging the power of aspiration
Moriya admires "Morning Musume", and when she is experiencing hardship in football, she cheers herself up by watching videos featuring the group's members taking intense lessons. When she was in South Korea, she says that watching Morning Musume videos and listening to her favorite songs every day helped her realize that "they are also trying hard in spite of hardships". At Shonan, she still remembers the atmosphere in the stadium when it was filled to capacity for an exhibition match thanks to the presence of Hidetoshi Nakata, who had already retired. At Yunogo, she was drawn by the aura she felt around women's football legends Aya Miyama and Miho Fukumoto, even though she couldn't play together with them and only watched from afar.
As I listened to Moriya speak, I sensed the power of continuing to aspire to somebody or something. Maybe this was because we normally don't even notice things that we have long since forgotten.
Six years have passed since Moriya graduated high school and embarked on her career as a football player at Yunogo.
"Having been granted a place to belong as a football player, I feel a sense of responsibility, and I have a very strong desire to repay the kindness shown to me by my workplace and the supporters of Ange."
She vows to rally from 11th (*).
*League position on the day of the interview
Kanna Moriya Profile
Born September 14, 1998 in Kanagawa Prefecture. Position: midfielder
Japan Soccer College Ladies→ Okayama Yunogo Belle → Changnyeong WFC (South Korea WK League) → Ange Violet Hiroshima (since 2022)
First league appearance: June 7, 2015 at the age of 16 years 266 days
Photographs provided courtesy of J. LEAGUE (top) and Ange Violet Hiroshima (middle and bottom)
Ange Violet Hiroshima team website=http://www.nadeshikoleague.jp/club/ange/