Nadeshiko Leaguers Running into the Future Episode 5 Tamami Miyasako (defender, Iga FC Kunoichi Mie)
The JLSL (Japan Ladies Soccer League) was launched as the top women's domestic league in 1989. It was subsequently renamed as the "L. League" and has been known as the "Nadeshiko League" since 2004. In this fifth episode of the series, "Nadeshiko Leaguers Running into the Future", in which we re-explore the basic appeal of "Nadeshiko", namely the high degree of skill and the single-minded determination to continue playing football in any circumstances, we talk to Tamami Miyasako (32), a defender who plays for Iga FC Kunoichi Mie and last year was selected to the Best XI while helping her team become champions. After graduating from the football powerhouse Kamimura Gakuen, she signed a contract with INAC Kobe Leonessa, which was one of the first clubs to establish a professional playing environment. Her career, which has continued for 10 years, is unique in that she has made the switch from professional to amateur football.
(By Midori Masujima, sportswriter. Titles omitted in the article)
Although she has been a "female football player" for 14 years, Tamami Miyasako laughs when she says, "My biggest injury was a sprained ankle". She played for the girls' football powerhouse of Kamimura Gakuen (Ichikikushikino City, Kagoshima Prefecture) in junior high and senior high school. Having been born in Tarumizu City, since she played continuously while studying away from home inside the prefecture and even played on the global stage, it would not have been surprising for her to have suffered typical footballing injuries such as a torn knee ligament or lower back pain.
However, this 32 year-old defender, who last year helped her team become champions and was selected to the league's Best XI, has continued to appear in all games this season, making her one of the top Nadeshiko League players in terms of number of appearances too (fourth highest with 249 games). When asked about why she has been able to sustain such a long and robust career in our online interview, she laughed as she replied, "I think it's because I never had a major injury. As for my secret, I eat a lot. I eat anything, and when I was at elementary school, I would keep going back for seconds of curry and rice and had to be stopped at four plates."
I didn't ask her if she still eats four bowls of rice, however, she cooks her own meals based primarily around white rice while considering variations of meat and fish and colors of red, green and yellow without being shackled by detailed nutrients. The English saying of "You are what you eat" very much applies to her. As I was talking to Miyasako, somehow the image of freshly boiled glistening rice appeared in my mind.
Before going to afternoon training, Miyasako always does yoga, which she searched for on an online video site during the two years when she was unable to train her body due to the COVID-19 pandemic. She joyfully reveals the effects of yoga and stretching when she says that the movements allow her to use her diaphragm better: "My breathing has become easier and I find that I can more easily inhale fresh air into my body."
After graduating Kamimura Gakuen, she signed a professional contract with Kobe because, she says, she had lofty ambitions and "wanted to aim for a high level with a strong team". Her continued efforts to carefully tune her body and mind through nutrition and breathing reflect her innate modesty but are also a manifestation of her unchanging professional core.
Although Miyasako realized her goal of becoming a professional female football player and playing in the most privileged environment, she only made 34 league appearances in three years after joining Kobe. Feeling that she had been "sacked" (Miyasako), she intended to quit football.
"Although I was grateful for an environment that allowed me to concentrate on football from the morning, there were sometimes double training sessions and I had too much time to think about football. I tended to drive myself harder when I couldn't appear in games."
As she was experiencing such uncertainty, Miyasako received an invitation from Naoto Ohtake, who was coaching Iga at that time. Having played on the frontline as a professional player, Miyasako recalls that she couldn't feel confident at that time because she had no experience of playing football as an amateur while holding down a job.
She changed clubs in 2011 and at first did office work for a local construction company in Iga. She worked fulltime from 08:00 to 17:00 and trained after that. Her work entailed measuring quantities and preparing slips for purchasing stone and sand at quarries, and she says that she made a lot of errors.
"Even so, everybody in the workplace was kind and supportive, and I surprisingly found myself thinking that playing football while working suited me."
She maintains her physical condition and concentrates on training while skillfully managing time. In 2011, Nadeshiko Japan, the Japan national women's football team, won the FIFA World Cup in Germany. With amateur leagues attracting more social attention especially regarding support for players, sponsors started to offer employment opportunities. Whereas until then female football players had individually done part-time work to maintain their livelihood and environment, this was now a time of change that offered players the opportunity to continue playing while working.
In Iga, the auto parts manufacturer "EXEDY" offered employment to all the players. This provided the players with a stable environment and enabled them to concentrate on football.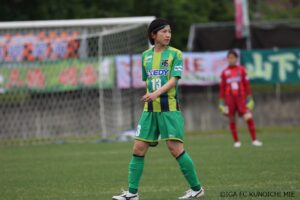 – Successive titles in the short term, while viewing distant scenery
Iga FC aims to join the women's professional WE League, which was launched last autumn. Following last season's league championship success, three teammates moved to a WE League club. Miyasako wishes them well, saying, "I respect their wish to take on the challenge and I want them to do well". Meanwhile, she takes a positive view regarding the team's predicament: "Although people say that the team has been weakened, the young players are displaying terrific growth and we look forward to seeing how far the new team can compete (provisionally in first place as of May 29)". Miyasako also says that she hopes to play against WE League opponents as a Nadeshiko Leaguer.
Having always been a trailblazer in women's football, Miyasako has a unique and powerful career. Her broad perspective is also turned to women's football in general.
Recently, while casually watching TV, she found out that the Barcelona women's team attracted the highest ever attendance for a women's football match of 91,648 at Camp Nou in the semi-final of the UEFA Women's Champions League.
She also saw the news that women's national team players in the United States will now receive victory payments and bonuses on the same level as men. In addition to being surprised about these two major stories surrounding women's football, she wonders if steps could be taken to obtain greater TV coverage for women's football in Japan or whether more could be provided to fans to ensure that they have a more enjoyable experience when they go to stadiums to watch games. She reveals the hope that in future the front staff and other behind-the-scenes workers (her favorites) of clubs can tackle such issues.
After training, Miyasako has one more custom that she performs to maintain her condition and prevent injuries. Every day, to relieve fatigue and restore her energy, she bathes in the hot spring baths of Sunpia IGA, which supports the football team. When in the bath, she chats with the local children and other women, and they come to games to support her.
Miyasako is likely to be expanding her fan base in the hot spring baths this evening too.
Tamami Miyasako Profile
Born January 29, 1990 in Kagoshima Position: defender
INAC Leonessa (currently INAC Kobe Leonessa)→ Iga Football Club Kunoichi Mie (currently Iga FC Kunoichi Mie) (since 2011)
First league appearance: April 19, 2008 at the age of 18 years 81 days
Awards:
2021 Plenus Nadeshiko League Division 1 Best XI
National team appearances:
U-19 Japan women's national team member
2009 AFC U-19 Women's Championship in China (appeared in 1 game)
Photographs provided courtesy of Iga FC Kunoichi Mie
Iga FC Kunoichi Mie team website=http://www.nadeshikoleague.jp/club/iga_fc/