Nadeshiko Leaguers Running into the Future Episode 4 Reina Imada (midfielder, NHK Spring Yokohama FC Seagulls)
The JLSL (Japan Ladies Soccer League) was launched as the top women's domestic league in 1989. It was subsequently renamed as the "L. League" and has been known as the "Nadeshiko League" since 2004. Even though the league's name and the number of clubs involved have changed, some things have remained the same, namely the high degree of skill and the single-minded determination to continue playing football in any circumstances. In this the fourth part of the series, "Nadeshiko Leaguers Running into the Future", in which we re-explore this basic appeal that is expressed in the name "Nadeshiko", we talk to Reina Imada (24), a midfielder who plays for NHK Spring Yokohama FC Seagulls following her transfer from JEF United Ichihara Chiba Ladies last year. Her situation is unusual in that she is taking on the challenge of pursuing a "double career", both in football as a Nadeshiko Leaguer and also in business as the representative of the apparel brand "GFREE".
(By Midori Masujima, sportswriter. Titles omitted in the article)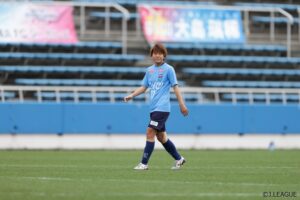 – After deciding to retire at one point, now pursuing a double career after gaining the opportunity to play
Designing T-shirts and parkers, she selects materials with emphasis on comfort and outsources printing. After checking samples, products are delivered to her house, so she conducts packing and delivers products without error in response to online orders. Imada established the apparel brand "GFREE", which expresses the concept of gender-free, in December 2021, and as the brand's representative, she conducts all work from design and ordering to packing and delivering herself.
She trains in the morning and then goes to the LP gas and renovation company KANA-L Co., Ltd. to do office work from 1 o'clock in the afternoon.
She explains her busy daily schedule as follows.
"It's one thing saying that you want more people to come to the stadium to watch games, however, we cannot produce attraction without demonstrating the skill and strength to justify that. The same thing applies to a brand. To gain recognition among many people, you have to manufacture good products and that includes the concept. It's a little hard, but I have the understanding of the team and am enjoying every day."
Whether it be the Nadeshiko League or a brand, appeal is conveyed based on real feeling. The busyness of moving between two jobs seems to provide Imada with fulfilling time for facing her "authentic self".
– Difficult reality followed by a transfer for a new outlook
Born in Himeji City, Hyogo Prefecture, Imada started playing football from elementary school. At high school, she entered Sakuyo High School (Tsuyama City, Okayama Prefecture), a powerhouse in girls' football. After graduating, she advanced to Osaka University of Health and Sports Sciences, where she helped the team finish third in the All Japan University Women's Football Tournament and so on while taking a teaching training course, and she was also a member of the Japan team that finished runners-up in the Napoli 2019 30th Universiade. Anticipated as an exceptional talent destined to become a "Nadeshiko Japan" member, she joined a prestigious club in JEF Ladies.
However, Imada recalls past hardships when she says, "Reality was not easy".
After she joined JEF in the spring of 2020, the sporting world was devastated by the COVID-19 pandemic, and there was a time when Imada couldn't even train. She lost her goal and became increasingly depressed amidst an unaccustomed way of life (it was the first time she had moved from Kansai to Kanto) and days spent unable to make any appearances.
"At the time, I couldn't think positively about anything and I was in a terrible mental state due to the COVID-19 pandemic. I told my family that I had decided to quit football."
Imada's parents, while understanding her reasons for wanting to retire, gave her some "emotional assistance" while nudging her in a slightly different direction.
"Maybe if you change your environment, you might see a different outlook".
These words became a turning point in enabling Imada to change direction.
Imada also received support from a JEF teammate who introduced her to officials of NHK Spring Yokohama FC Seagulls, and she moved to Yokohama in January 2021. She reveals that the transfer helped her to "see a different outlook".
"Previously, I only thought about my own playing and what I needed to do in order to become better. Now, I feel that my emphasis has changed a little towards thinking about how I can contribute towards the team."
This year, which marks the third year since she graduated university, she is changing her thinking and discovering that where she needs to be is on the pitch. She came on as a substitute in the first game of the season on March 19 (Speranza Osaka, the game ended 1-1). She appeared as a starting member for the first time in the fourth game of the season against Nittaidai SMG Yokohama and scored her first goal since graduating university in a 4-0 victory.
She poured forth her feelings on social media where she wrote, "All the days that were hard, the days that I found unbearable, and the days when nothing made sense instantaneously turned into positives."
She has continued to appear for the team, and Yokohama FC Seagulls currently lie in sixth position with 10 points from two wins, four draws and one defeat (as of the end of May 7, the game against Cerezo Osaka Sakai Ladies in the sixth round of matches was cancelled). Concerning the four draws, Imada has her sights set on climbing the table and competing for the championship when she says, "For the team, rather than gaining a point, we are losing two points. We need to be hungrier and press harder for victories."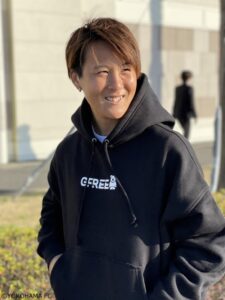 – Commonality between the "bear" concept and the league's appeal
Imada has always been interested in clothing and accessories and liked to look around used clothes shops on her days off. In addition to this interest, she took lessons at "Athletes Business United (ABU)", which is dedicated to helping athletes build second careers, and it was here that she started to nurture a dream about setting up her own brand.
Upon conducting a crowd funding campaign, Imada launched her brand "GFREE", named out of her desire to cater to the gender-free market, in December 2021. Deciding that the brand concepts should be to "render ideas of masculinity and femininity meaningless and do away with gender" and "allow people to choose the clothes they want to wear", she made a point of adopting unisex designs and colors.
Her club has expressed understanding for these activities. Sales have been good, and the brand's items are widening to include T-shirts, short pants and more. What Imada didn't foresee was that, in addition to selling clothes, she has been approached by junior and senior high school students and other young people struggling with "finding no understanding for genderless ideas in school or with parents".
"There is no right answer, but living true to oneself is not easy. However, precisely because I launched the brand, I have been able to hear young people's voices and have links with them."
Being a Nadeshiko Leaguer and representative of an apparel brand, as well as having the enthusiasm to aspire to becoming a teacher, Imada will surely develop even more through her own unique activities.
A humorous bear character is drawn next to the GFREE brand logo. Actually, since bears are drawn with a variety of expressions, the bear symbolizes the diversity of GFREE.
"The appealing things about the Nadeshiko League that I like are the wonderful teamwork and the respect that players and teams have for their opponents."
Imada's double career is strongly connected by the value of diversity.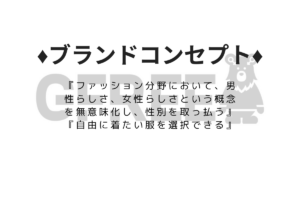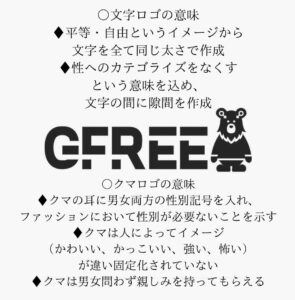 Reina Imada Profile
Born July 7, 1997 in Hyogo Prefecture. Position: midfield
JEF United Ichihara Chiba Ladies → NHK Spring Yokohama FC Seagulls (since 2021)
First league appearance: October 11, 2020 at the age of 23 years 96 days
National team appearances: Japan women's football team at the 2019 Universiade
Photographs provided courtesy of: J. League (top), NHK Spring Yokohama FC Seagulls (middle upper and lower, and bottom)
NHK Spring Yokohama FC Seagulls team website =http://www.nadeshikoleague.jp/club/nippatsu/