Nadeshiko Leaguers Running into the Future Episode 3 Mayu Kawajiri (midfielder, Asahi INTECC Loveledge Nagoya)
The JLSL (Japan Ladies Soccer League) was launched as the top women's domestic league in 1989. It was subsequently renamed as the "L. League" and has been known as the "Nadeshiko League" since 2004. Even though the league's name and the number of clubs involved have changed, some things have remained the same, namely the high degree of skill and the single-minded determination to continue playing football in any circumstances.
In this series, "Nadeshiko Leaguers Running into the Future", which will advance in line with the season, we re-explore this basic appeal that is expressed in the name "Nadeshiko".
In this third episode of the series, we take a look at the struggles of a player who is also a mother, still an unusual case even for a league that features players with diverse backgrounds including students and working members of society. Mayu Kawajiri, a midfielder who plays for Asahi INTECC Loveledge Nagoya, overcame her doubts and returned to the pitch in this season's third round of matches, three years after giving birth. She talked joyously about the daily challenge of balancing childrearing with football and the sense of fulfillment that this challenge imparts.
(By Midori Masujima, sportswriter. Titles omitted in the article)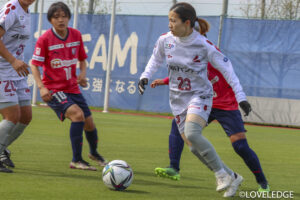 – A new step taken together with a three year-old son
On the day that the new school year started, Kawajiri needed to confide something important to her three year-old son prior to a game against Cerezo Osaka Sakai Ladies on April 2.
In the second round of matches held on March 26, Kawajiri started on the bench in the match against NHK Spring Yokohama FC Seagulls that was held at home (Nagoya Minato Stadium). For the next away game on April 2, team coach Ken Isomura included Kawajiri in the list of members to make the trip. Having given birth in February 2019, Kawajiri's second debut as a football player fell on the same day that her son debuted at the entrance ceremony for his kindergarten.
Even so, mama made a decision.
"Yu, I'm going to play football, okay."
Before she had a chance to worry about her son crying, Yu replied cheerfully.
"Okay mama. Do your best at football."
After that, Kawajiri's mother took charge of all matters at the entrance ceremony and after as the "control tower". Then, in the 54th minute of the game, Kawajiri came on as a substitute for midfielder Anna Ezaki, meaning that she returned to the pitch after a gap of approximately four years including the time she was pregnant (the game ended in a 2-2- draw). Rather than basking in the joy and wonder of the occasion, Kawajiri says that each play during her 36 minutes on the field reminded her of the challenges she faces in playing at the top level.
"I chose football over the precious kindergarten entrance ceremony, which was a once in a lifetime event for son and parents alike. However, thanks to the support of my mother and father and teammates, more than my own appearance, the fact that I was able to make my debut together with my son and start out on a new path gave me the greatest joy."
Kawajiri spoke excitedly two days after making her comeback.
-Unable to find a precedent close at hand, she continued to do 300 sit-ups
When I found out I was pregnant, I belonged to Shizuoka SSU Bonita and had morning sickness so badly that I couldn't even drink liquids and had to receive an intravenous drip. Also, maybe because I had to stop playing football, which until then I had naturally played every day as, but I experienced psychological depression. The birth passed without a problem, however, in those circumstances I couldn't find the motivation to return to the game.
Just around that time, an innocuous remark by my mother, who has always been my "supporter" since I started playing football at kindergarten, gave me a lift.
"I want to see more of you playing football, Mayu. I can help with child rearing, so why don't you try it?"
It seems that this remark reignited Kawajiri's passion for football, which she had almost given up on.
"I completely trusted my mother's kind words to help with the childrearing, and from there seriously started to think about playing football again."
When she says, "kind words", Kawajiri includes a hint of humor as she expresses gratitude for the support of her parents. However, looking back on that time, she didn't know of any other nearby cases of players returning to the top league after giving birth, and she had no idea what to do. As a parent, she could receive the generous support of her own mother, however, as an athlete, she couldn't find a way to restore her body which had withstood a difficult delivery.
In December 2020, 18 months after giving birth, Kawajiri received a chance to join FC Fervor, which is based in Kasugai City in her home prefecture of Aichi and has produced numerous players. It was an offer to join as a player and coach offering guidance to girls.
Having previously belonged to Nagoya FC Ladies, the forerunner of Loveledge, during her junior high school days, Kawajiri started by first aiming to be a trainee for Loveledge. However, she recalls being unable to even handle one start dash. "My stamina and muscle strength had declined more than I realized and I was embarrassingly unfit", she recalls.
Many players who have experienced childbirth find it difficult to return to the game because of the damage their bodies sustain in labor, especially dislodging of the pelvis. According to defender Azusa Iwashimizu (35, Nippon TV Tokyo Verdy Beleza), who has led the way in the WE League, "Returning to the game was really a process of trial and error. The process of accepting the changes in my body and getting into shape again was tough".
Nowadays, various supports have become available to help female athletes in their careers, however, they are not widely known and there are quite a few cases of women damaging their hip joints or suffering from serious lower back pain.
However, Kawajiri's passion for football compensated for the lack of information. Leaving aside the question of whether or not experts recommend taking on such a reckless challenge― as post-maternity training, Kawajiri continued to do 300 sit-ups a day in order to retrain her trunk.
"Having become a Loveledge trainee, I felt like I was on a cliff edge and had to do the work every day to make it onto the team. During that time, I realized just how much I loved football and how I was willing to go to any lengths to play it."
Kawajiri's stamina gradually returned, and thanks also to the support of her teammates, who welcomed her back warmly and treated her son with affection, she was officially registered with the team in August 2021.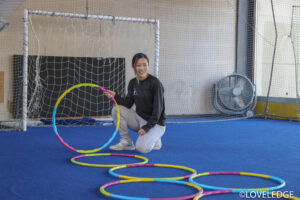 – Successfully filling three roles: mother, footballer, and kindergarten worker
Kawajiri currently leads a busy life, working two times a week at a kindergarten, where she teaches an exercise and play class, raising a child, and playing football as a Nadeshiko Leaguer.
She gets up before 06:00 and leaves the house without waking her son up because she doesn't want to make him cry about her leaving. After conducting training for around two hours from 08:30, she goes to work at kindergarten. After shopping, performing other errands and returning home, she makes sure to spend quality time with her son by walking to a local park. The day ends with dinner, bath time and putting her son to bed.
"I am here now thanks to the support I receive from everyone. I hope people can become aware that the Nadeshiko League also has a player who is a mother. In future, I hope that I can offer support to other players who strive to return to playing."
Having realized a joint parent and child debut in Sakai and Kasugai on April 2, Kawajiri's next goal is to enter a football pitch together with her son. She is now putting efforts into childrearing and playing football with a view to becoming a starting member and making this dream come true.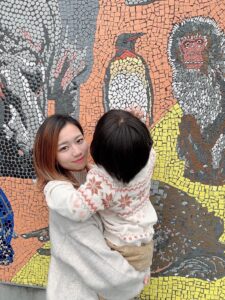 Mayu Kawajiri Profile
Born May 10, 1997 in Aichi Prefecture. Position: midfield
JAPAN Soccer College Ladies → Shizuoka SSU Bonita → NGU Loveledge Nagoya (now Asahi INTECC Loveledge Nagoya) (since 2021)
First league appearance: April 29, 2013 at the age of 15 years 354 days
Photographs provided courtesy of Asahi INTECC Loveledge Nagoya
Asahi INTECC Loveledge Nagoya team website =
http://www.nadeshikoleague.jp/club/nagoya/