Nadeshiko Leaguers Running into the Future Episode 1 Manami Nakano (midfielder, Speranza Osaka)
The "2022 Plenus Nadeshiko League" marks the league's 34th season, with Division 1 kicking off on March 19, and Division 2 starting on March 26. The JLSL (Japan Ladies Soccer League) was launched as the top women's domestic league in 1989. It was subsequently renamed as the "L. League" and has been known as the "Nadeshiko League" since 2004. Even though the league's name and the number of clubs involved have changed, some things have remained the same, namely the high degree of skill and the single-minded determination to continue playing football in any circumstances. In this series, "Nadeshiko Leaguers Running into the Future", which will advance in line with the season, we re-explore this basic appeal that is expressed in the name "Nadeshiko".
In this episode 1, Manami Nakano (36), a midfielder who plays for Speranza Osaka (Takatsuki City, Osaka Prefecture) will be our future runner. As of last season, she holds the record for the most appearances of any current player, having appeared in 322 matches, and she is about to break the all-time record during this season. (By Midori Masujima, sportswriter. Titles omitted in the article)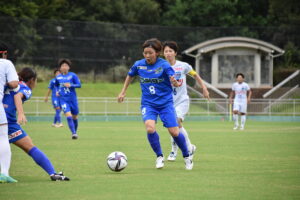 – You will break an immense record this season, won't you?
Nakano: …
– When Nozomi Yamago (current coach of Chifure AS Elfen Saitama in the WE League) retired from playing in 2014, I thought that such an appearance record could never be broken, but you are about the break it, aren't you?
Nakano: I don't know
Of course, since you never know what's going to happen when it comes to sports, we mustn't count our chickens. However, you will draw level with Yamago in three matches, so it's almost certain that you will break the record at some point during this season…
Nakano: I'm not sure about that.
What do you mean when you say you're not sure.
Nakano: I just don't know how many games I have played in or anything about breaking Nozomi Yamago's record.
– Oh, I see! Do you mean you were not aware of how many appearances you have made?
Nakano: No, I'm sorry. I really didn't know.
The secret to realizing a great achievement – "Nothing in particular"
My interview with Manami Nakano, which took place just before the start of the new season, started off with both sides on entirely different wavelengths. On asking about the true meaning behind Ms. Nakano's response of "I don't know", I sensed her innate sense of humor, but also a typically easygoing nature of not being particularly interested in her own incredible record.
When Nozomi Yamago, the former Japan women's national team goalkeeper, broke the Nadeshiko League record for the most appearances on reaching 325 in 2014, everybody thought that it could never be broken. At that time, only two female players had appeared in more than 300 Nadeshiko League matches over a span of 21 years, the other being Homare Sawa, who retired in 2015 with 319 appearances.
Prior to the start of this season, Ms. Nakano has appeared in 322 Nadeshiko League matches and is four matches away from breaking the all-time record. Since the launch of the Nadeshiko League in 1989, only six players have made more than 300 appearances. Out of those, Nozomi Yamago, Homare Sawa, Shinobu Ohno (319 appearances), goalkeeper Shiho Onodera (315), and Nozomi Matsuda (300), who is the same age as Ms. Nakano and has played together with her, have all retired from the game, and it is possible that Nakano will extend her number of appearances even more beyond the record.
Compared to the men's J. League, the Nadeshiko League has entailed fewer matches in most seasons. This year, there will be 22 matches. Therefore, it takes 10 years to reach even 200 appearances. To reach 300 requires appearing for 15 years. The fact that Nakano is about to break the appearance record in her 17th season reflects a stellar career spanning seven clubs including Ohara Gakuen, Okayama Yunogo Belle, Vegalta Sendai Ladies, Mynavi Vegalta Sendai, AC Nagano Parceiro, and Nojima Stella Kanagawa Sagamihara, and the fact she has appeared on an almost constant basis wherever she has played makes her an unusual case.
It is impossible to sustain such a career without maintaining one's condition and staying mentally refreshed. On asking her about the secret of her longevity, she again dodged the question by saying, "Mm, nothing in particular". So far, apart from a single fractured metatarsal, she has had no major injuries.
"I think the best conditioning for me is to stay free of stress. Rather than deciding that things should be a certain way, I like to go with the flow of things. Thanks to our sponsor company, now that I have been granted an environment in which I can focus on football, I am able to utilize my time effectively."
She makes a point out of switching between on and off times. Last year, she acquired a motorcycle driver's license with a view to going touring around Hokkaido with her father, a dream that she someday hopes to realize after retiring from football, and this is indicative of her skill at switching between on and off.
Room for improvement at 35 years of age: The target is to appear in all games
Following her transfer from Nojima, Nakano has worked for the rice manufacturer and retailer "SR JAPAN Co., Ltd.", a client of supermarket operator Konomiya Co., Ltd., which runs Speranza Osaka. Finding herself in an environment where she can train in the morning and have free time in the afternoon, she cooks her own meals while giving consideration to her calories and ingredients under the guidance of a nutritionist. At the request of the players, SR JAPAN makes highly nutritious "onigiri" rice balls referred to as "Power Balls" and supplies them to the team together with fried chicken, omelets and other dishes on match days.
Last season, for the first time in her long career, Nakano experienced a tough relegation battle. With the team in trouble, the footballing sense of this veteran player discovered fresh ground. Up until then, Nakano had appeared in matches while emphasizing her own performance and condition as the best way to contribute to the team. However, with her team facing relegation unless top priority was constantly given to winning games, Nakano says that she switched her focus from her own condition to the events on the pitch and making the best decisions and plays that could help the team win.
So, even if she had an excellent shooting opportunity, she decided to pass to a teammate who was maybe running closer to the goal and had a better chance of scoring.
"It was the first time I experienced a relegation battle, and I found it very tough. However, it was a precious opportunity to gain new experiences. As a team, we want to build on that experience and this year aim for a top-six finish. On a personal level, I want to appear in all matches without picking up any injuries." Nakano thus has her sights set on further extending the appearance record of 322 matches.
She has played with and made passes to star players who have led the Japan national team in the world, for example, Aya Miyama and Miho Fukumoto at Yunogo, Yuri Kawamura at Sendai, Kumi Yokoyama at Nagano, and Shinobu Ohno at Nojima. Although the WE League has been launched, Nakano reveals her reasons for choosing to play in the Nadeshiko League when she says, "For me, those women demonstrated what it means to be a professional football player. I never thought I could become like them". During her days at Yunogo, Nakano worked on making fliers for sales campaigns and even did clerical work at a dispatched company. Among numerous jobs, she has worked on mail order sales for Iris Ohyama, which manages Vegalta Sendai, and operated a cash register wearing her kit during her time at Nojima.
Nakano's 322 appearances, which have spanned various transitions of the Nadeshiko League, also represent the number of times she has conveyed the appeal of women's football, which is supported by numerous companies. Many subsequent players, including Risa Fukasawa (291), have watched her exploits.
At the end of our interview, I realized that Manami Nakano had reached uncharted territory precisely because she had never thought about how many games she had played or what kind of value they carried. How far will this iron lady's record go on for?
In direct contrast to the image of an iron lady, Manami Nakano is a natural and supple "symbol of Nadeshiko".
Manami Nakano Profile
Born August 30, 1986 in Hokuto City, Hokkaido. Position: midfield.
Ohara Gakuen JaSRA Ladies Soccer Club → Okayama Yunogo Belle → Vegalta Sendai Ladies (Mynavi Vegalta Sendai Ladies), → AC Nagano Parceiro Ladies → Nojima Stella Kanagawa Sagamihara → (Since 2021) Konomiya Speranza Osaka-Takatsuki (currently Speranza Osaka)
Former Nadeshiko Japan women's national team member
First appearance: April 10, 2005 at the age of 18 years 223 days; 100th appearance: November 1, 2009 at the age of 23 years 63 days; 200th appearance: April 5, 2015 at the age of 28 years 218 days; 300th appearance: November 21, 2020 at the age of 34 years 83 days
As of the end of the 2021 league season, she had made 322 appearances. This season, she aims to break the all-time appearances record of 325 matches (Nozomi Yamago).
Photographs provided courtesy of Speranza Osaka
Speranza Osaka team website = http://www.nadeshikoleague.jp/club/konomiya/