"History of the Nadeshiko League" 22. Into a New Era
From the time when it was still unusual for women to play football, through to the birth of the Japan Women's Football League, victory in the Women's World Cup, and creation of the Japan Women's Empowerment Professional Football League, social conditions and the environment surrounding girls' and women's football have undergone great changes.
We intend to publish a series of 22 articles before the end of the year in which we will look back over the tempestuous history of girls' and women's football in Japan.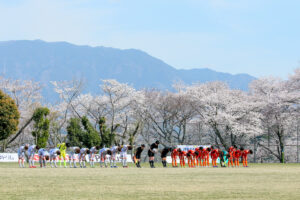 On Saturday, March 27, 2021, the soccer stadium in Ehime Prefectural Sports Complex situated on a low hill in the south of Matsuyama City was bathed in warm spring sunshine, and the green pitch was dotted with beautiful cherry blossoms. The match between Ehime FC Ladies and Ange Violet Hiroshima was being played one day before five other games in the first round of games of the 2021 Plenus Nadeshiko League Division 1.
With 10 clubs from the previous year's Nadeshiko League switching to the new professional WE LEAGUE that was scheduled to begin in the fall, the Nadeshiko League embarked on a new page with a total of 20 clubs – 12 in Division 1 and 8 in Division 2.
Midfielder Sonoka Matsumoto, the captain of home team Ehime FC Ladies, stood in the center circle and kicked off the game when referee Kumiko Matsuo blew the whistle. Ehime attacked with vigor, however, Ange Violet scored a splendid goal when midfielder Wakaho Kanda scored with a right-footed shot after breaking free on a one-touch pass by forward Yume Matsuyama. Ange Violet, which had "leapfrogged" into Division 1 after playing in the Challenge League WEST the previous year, took the lead, and this was the first goal of the "new Nadeshiko League".
However, the home team Ehime didn't panic and came from behind to win the game 3-1. Midfielder Sari Suzuki scored the equalizer eight minutes later, and Ehime made sure of an excellent victory with second-half goals from forward Niina Yamada and captain Matsumoto.
With establishment of the WE LEAGUE, a lot of players moved during this year's off-season. However, since women's football in Japan has an abundant supply of talent, the Nadeshiko League had welcomed new teams and embarked on a new era. The high quality of this match demonstrated that the Nadeshiko League will play an important role in the future of women's football in Japan.
The league, having embarked on a "new era", was played before and after the delayed Tokyo Olympics and continued until October. In Division 1, Iga FC Kunoichi Mie displayed overwhelming strength in running away with the championship. This club was founded 45 years ago and is one of Japan's oldest women's football clubs. It was an ever-present in the top-flight Japan Ladies Soccer League, L. League, and Nadeshiko League for all 32 seasons from 1989 to 2020, and this year's success was its third league title following championships as Prima Ham FC Kunoichi in 1995 and 1999.
Midfielder Ami Sugita, who has also been selected for Nadeshiko Japan drove the team, and the physically imposing forward Asuka Nishikawa contributed to the title success by scoring 19 goals. This season's second-placed team was Sfida Setagaya FC, which had won Division 2 in the previous year. The team was led by forward Mayu Otake, who scored 14 goals, and it finished the season strongly to take second place.
The Division 2 title was won by JFA Academy Fukushima. Midfielder Manaka Matsukubo, who is also a candidate for the U-19 Japan national team, scored 13 goals to become the campaign's top scorer and MVP. However, because JFA Academy Fukushima did not meet the requirements for promotion to Division 1, second-placed Bunnys Gunma FC White Star took part in a promotion/relegation playoff series against Yamato Sylphid, which finished 12th in Division 1, and it won promotion to the top-flight after winning 2-1 over two games.
In 2022, the Nadeshiko League is scheduled to have 12 clubs in Division 1 and 10 in Division 2 following the addition of two teams. First, seven teams aiming for promotion from regional leagues played each other to determine three teams that would take part in a promotion/relegation playoff series, which also included Okayama Yunogo Belle, the eighth-place team in Division 2. These four teams played each other in a round robin to determine the top three teams. As a result, Okayama Yunogo Belle avoided relegation and two new clubs – Diavorosso Hiroshima (Hiroshima Prefecture) and Veertien Mie Ladies – newly joined the league.
Diavorosso was only just founded in 2019 in the town of Kumano in Aki County, Hiroshima Prefecture. Possessing two dedicated pitches, the club has grown rapidly and achieved entry to the Nadeshiko League. Meanwhile, Veertien is the women's branch of "Veertien Mie" general sports club, which is based in Kuwana City, Mie Prefecture and aims to join the J. League. This club also has men's and women's volleyball, basketball, beach soccer and athletics teams among others, and its top football team currently plays in the JFL.
In future, it is predicted that clubs will successively climb into the WE LEAGUE from the Nadeshiko League. However, the Nadeshiko League has more than 30 years of history dating back to 1989, and it continues to be a stage where Japan's top female players hone their skills through intense rivalry. The players will no doubt continue to display pride in this history as they play out games that feature their "Nadeshiko qualities" and bring smiles to fans in each area and around the country.
END
Yoshiyuki Osumi (football journalist)