"History of the Nadeshiko League" 20. Further Expansion of the Nadeshiko Dream
From the time when it was still unusual for women to play football, through to the birth of the Japan Women's Football League, victory in the Women's World Cup, and creation of the Japan Women's Empowerment Professional Football League, social conditions and the environment surrounding girls' and women's football have undergone great changes.
We intend to publish a series of 22 articles before the end of the year in which we will look back over the tempestuous history of girls' and women's football in Japan.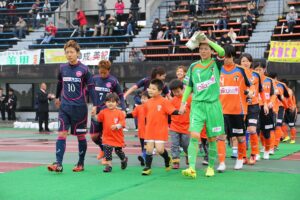 Thanks to Nadeshiko Japan's victory at the 2011 FIFA Women's World Cup that moved the nation, no longer was it regarded as unusual for girls and women to play football.
When the Japan Football Association started accepting registrations from girls and women in 1979, only 52 teams and 919 players applied. Moreover, these teams and players were located in only 13 out of Japan's 47 prefectures. By the time the Japan Women's Football League (later to become the Nadeshiko League) was launched in 1989, the numbers of teams and players had increased roughly tenfold.
By 2013, following victory in the Women's World Cup, there were 1,409 teams and 30,243 players. In addition, because the number of players registered with boys' teams mainly in the elementary school age group accounted for almost 80% of the total number of players in girls' teams, the total number of girls and women playing football in Japan was well over 50,000.
National championships for university and high school girls were started in 1992, and the number of competing teams increased every year until powerhouse teams came to be located all over the country. There were even some university and high school teams that participated in the Nadeshiko League and Challenge League. Popularity of the game in high schools in particular led to women's football in Japan becoming highly competitive. Naturally, more and more players and clubs wanted to play in the Nadeshiko League.
In 2015, in response to such needs of the age, the Nadeshiko League undertook a major reform.
In 2014, there was a total of 26 teams comprising 10 teams in the Plenus Nadeshiko League and 16 teams in the Plenus Challenge League, which corresponded to Division 2. The Challenge League was launched in 2010 with 12 clubs divided into the EAST and WEST groups of six clubs each, however, there were many other teams that sought promotion to the league. In 2013, four teams were added, bringing the total to 16, and other teams continued to fight for promotion.
In 2015, the league was reorganized into the Plenus Nadeshiko League Division 1 comprising 10 teams, Plenus Nadeshiko League Division 2 comprising 10 teams, and the Plenus Challenge League, which comprised the EAST and WEST groups of six clubs each. Accordingly, the Nadeshiko League became a large family of 32 clubs.
A total of seven teams newly joined the league as a result of these changes: they were Norddea Hokkaido, Tsukuba FC Ladies (Ibaraki Prefecture), Yokohama FC Seagulls (Kanagawa Prefecture), Yamato Sylphid (Kanagawa Prefecture), Niigata University of Health and Welfare Women's Football Team, NGU Nagoya FC Ladies (Aichi Prefecture), and Mashiki Renaissance Kumamoto FC (Kumamoto Prefecture).
ORCA Kamogawa FC (Chiba Prefecture) joined in 2016, and was followed by FC Jumonji Ventus (Saitama Prefecture/Tokyo) in 2017. This format with 32 teams competing continued until 2020.
Girls who play football in Japan naturally dream about playing for Nadeshiko Japan and taking on the best in the world. For that purpose, it is necessary to play well in the Nadeshiko League. The major expansion of this stage widened opportunities and greatly encouraged young girls and players at high schools and universities. The "Nadeshiko dream" realized even greater expansion.
Yoshiyuki Osumi (football journalist)