"History of the Nadeshiko League" 4 "Shimizu FC are Crowned Inaugural Champions"
From the time when it was still unusual for women to play football, through to the birth of the Japan Women's Football League, victory in the Women's World Cup, and creation of the Japan Women's Empowerment Professional Football League, social conditions and the environment surrounding girls' and women's football have undergone great changes.
We intend to publish a series of 22 articles before the end of the year in which we will look back over the tempestuous history of girls' and women's football in Japan.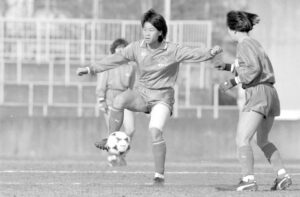 The first Japan Women's Football League (the current Nadeshiko League), which was held from September 1989 to January 1990, was won by Shimizu FC.
After losing to Yomiuri Beleza in the season opener, Shimizu FC drew its next game with Nissan FC 3-3. Despite struggling at the start, the team improved both defensively and offensively, playing solidly and stringing together victories over the remainder of the season, before eventually playing Yomiuri Beleza again in the final game on January 28, 1990. Things were finely poised with Shimizu FC needing to win the final game to pull level with Beleza on points but move ahead on goal difference.
When the Japan Women's Football League was launched, Shimizu FC was the sole representative from Shizuoka Prefecture. Shimizu was home to "Shimizu Daihachi", which won the Empress's Cup JFA Japan Women's Football Championship for seven consecutive years from the tournament's second year onwards, but did not have the financial strength to compete in a national league. However, Shimizu FC Ladies, which was founded in December 1986 and rapidly became strong enough to appear in the Empress's Cup, had the financial backing of local physical distribution company "Suzuyo" and became one of the league's founding members.
When the league was founded, four players moved from Shimizu Daihachi: forward Etsuko Handa, midfielder Chiaki Yamada, midfielder Futaba Kioka, and defender Sayuri Yamaguchi. Although these four players were still in their early 20s, they were all key members in the seven consecutive Empress's Cup titles and also had abundant experience as important defensive and offensive players for the Japan national team. However, most of the other players of Shimizu FC were senior and junior high school girls. To compete against the battle-hardened players of Beleza, even more drastic strengthening was needed. The answer was recruitment of overseas reinforcements.
Football in Japan at that time was at the "eve of the J-League". Football passion was still not peaking, however, the men's Japan Football League featured numerous overseas players mainly from Brazil, and they played an important role in strengthening their teams. It was only natural that women's teams would think the same way.
Shimizu FC recruited the Chinese Taipei forward Chou Tai-ying, who was 27 years old and had been playing for a club in Germany before moving to Japan.
Together with Hong Kong, Chinese Taipei was one of the first countries in Asia to popularize women's football and was the champion of Asia two times in the 1970s. Chou Tai-ying was an international class player who combined power with technique, speed and an eye for goal.
In the "second-stage" league that was played between November 1989 and January 1990, Shimizu FC's forward line featuring Handa, Kioka and Chou Tai-ying was explosive. Following consecutive 4-1 victories against Tasaki Shinju Kobe Football Club Ladies and Prima Ham FC Kunoichi, the team won 8-0 against Shinko Seiko FC Clair, and then 5-0 against Nissan FC Ladies, with whom they had drawn 3-3 in the first stage. Consequently, Shimizu FC was ahead of Beleza on goal difference when the two teams met on the final day of the season.
Shimizu, led by Yamaguchi, resisted early Beleza pressure, and took the lead after 18 minutes when Kioka scored after receiving a pass from Handa. Beleza equalized in the 57th minutes with a goal scored by Asako Takakura following a corner kick, and a draw would have been enough to give Beleza the championship.
However, Shimizu stayed focused until the end. Just three minutes after conceding the equalizer, Kioka delivered a free kick into the goalmouth where the diving Yamaguchi scored with a brave header. This was enough to give Shimizu a 2-1 victory and see them crowned as the inaugural champions.
Shimizu and Beleza both finished the season on 17 points with eight wins, one draw and one defeat (two points were awarded for a win at that time). The decisive factor was Shimizu's offensive strength, which saw them score 38 goals in 10 matches. Chou Tai-ying, who led the forward line with her powerful playing style, leaped into the limelight as the league's top scorer with 12 goals. Her exploits paved the way for numerous overseas players to subsequently join the Japan Women's Football League.
Yoshiyuki Osumi (football journalist)