"History of the Nadeshiko League" 3 "Prime Movers behind the Birth of the Nadeshiko League"
From the time when it was still unusual for women to play football, through to the birth of the Japan Women's Football League, victory in the Women's World Cup, and creation of the Japan Women's Empowerment Professional Football League, social conditions and the environment surrounding girls' and women's football have undergone great changes.
We intend to publish a series of 22 articles before the end of the year in which we will look back over the tempestuous history of girls' and women's football in Japan.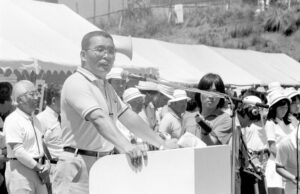 The flow of nature is not the only thing that causes the world to change. History has on occasion been greatly transformed as a result of the passion and superhuman efforts of a handful of people. I think that the birth of the Japan Women's Football League – today's Nadeshiko League – in 1989 was one such case.
The course of history was changed by Mr. Tetsuji Hotta, a director of the Japan Football Association at that time, Mr. Hiroshi Hayano, the manager of Nissan Ladies, Mr. Kazuhiko Takemoto, manager of Yomiuri Soccer Club Beleza, and Mr. Hitoshi Kurotaki, who was running a women's team in Yokohama.
Mr. Hotta had been involved with football since junior high school days. After graduating from Shizuoka University, he became an elementary school teacher in Shimizu City (now the Shimizu district of Shizuoka City) in 1956. As well as teaching football to the children of his own school, he encouraged other elementary schools in the city to form teams and was instrumental in turning Shimizu into a "football town". In 1970, at the age of 35, Mr. Hotta received training at the "First Football Coaching School" staged by the Japan Football Association.
This school, intended to convey to Japanese coaches the contents of the FIFA coaching school that was held in Japan the previous year when Dettmar Cramer (the German coach who guided Japan in the 1964 Olympics) was invited as the chief coach, was an extremely high-level event. Mr. Hotta was the only elementary school teacher among the trainees who also included famous players.
However, Mr. Hotta differed from the other trainees in that, more than conveying the know-how he learned at the school to his own team, he was more concerned about spreading it throughout Shizuoka. In 1971, he widely taught what he had learned by holding the "Shizuoka Prefecture Coaching Course" every Monday evening at his own elementary school. With coaches of powerhouse high school teams in the prefecture attending, all 23 elementary schools in Shimizu City, where the course was held, also dispatched one instructor each. This became the driving force that subsequently made Shimizu into Japan's top football hub.
Mr. Hotta also devoted energy and supported the development of girls' and women's football. It all started soon after he became an elementary school teacher. When he was teaching football only to the boys one day, the girls called out, "We want to play too". On watching the girls play the game, he realized that there was no difference between boys and girls in their desire to enjoy football.
Eventually, the girls at the school where Mr. Hotta worked advanced to junior high school, where they formed a girls' team called "Shimizu Daihachi", and this team went on to become runners-up in the first Empress's Cup JFA Japan Women's Football Championship held in March 1980. From the next year, they went on to win the tournament for seven consecutive years.
However, at the ninth Empress's Cup held in March 1988, Shimizu Daihachi were runners-up after losing to the emerging Yomiuri Soccer Club Beleza. Mr. Hotta sensed with alarm that the team could not keep winning if nothing was done.
This was because the powerhouse teams of women's football at that time were concentrated in the Kanto area (Tokyo) and Kansai (Osaka), while Shimizu in Shizuoka Prefecture and Iga Ueno Kunoichi in Mie Prefecture were geographically isolated. With only a handful of tournaments providing limited opportunities to play powerhouse teams each year, it was difficult for girls' and women's football to develop soundly throughout Japan. This provided the initial motivation for establishment of the Japan Women's Football League.
Amidst numerous opposing voices who claimed that it was still too early to have a nationwide women's league, Mr. Hotta's cause was boosted by the fact that women's football was conducted as an official event for the first time at the 1990 Asian Games in Beijing. He succeeded in convincing others that a nationwide league was necessary to strengthen the women's game in Japan.
Mr. Hotta's passion moved Mr. Hayano and Mr. Takemoto to lend support. With Mr. Kurotaki assuming secretarial and administrative duties, Mr. Hotta had three powerful assistants.
Mr. Takemoto described Mr. Hotta as a bulldozer because of his passion and vigor, however, the support and selfless efforts of Mr. Takemoto, Mr. Hayano and Mr. Kurotaki were also indispensable in overcoming various obstacles and delivering a national league to the still developing girls' and women's game in Japan.
Yoshiyuki Osumi (football journalist)