Birth of the Division 1 Championship Trophy and Medals (Part 2)
The Nadeshiko League Division 1 Championship trophy and medals were completed and announced on March 14, 2022, thereby heralding a new inspiration for the Nadeshiko League just as it was embarking on its second season as Japan's top amateur league. How did the innovative designs expressing the individuality of players come into existence?
The Nadeshiko League Division 1 Championship trophy was created by the contemporary artist Shiori Watanabe. She produced the trophy in a joint effort with Mr. Shinpei Yokota, who specializes in producing various products and interior items. Watanabe and Yokota have known each other for a long time ever since Yokota was attending a preparatory school to enter Tokyo University of the Arts.
Although Ms. Watanabe accepted the request to produce the championship trophy, she felt conflicted. That arose from a feeling of resistance to having been selected on the grounds she is a woman, and a feeling of skepticism regarding competition fundamentalism. Concerning sport too, her relationship was qualified by a desire to detach from the mindset of prevailing over competition.
Ms. Watanabe arrived at the concept word "convivial" for the trophy design. This is derived from the Latin word "convivere", in which 'con' denotes "together" and 'vivere' denotes "live" or "live together". Ms. Watanabe describes the background of her idea as follows.
"I personally was glad that the Nadeshiko League was an amateur league. I have the impression that many players enjoy playing the game while holding down regular jobs.
Ms. Chizuko Ueno (professor emeritus at the University of Tokyo) said on an NHK program, 'I believe that the sane way to be involved with an organization is to be half-involved'. The term 'half-involved' tends to be construed as flippant, however, I believe it is important in the current age. In contemporary capitalistic society, importance is placed on winning and losing and only the winners remain. People pin all their hopes on one thing, and if that fails, everything fails. However, being 'half-involved' gives people a chance to escape or find their own place to live. I feel that the world is currently shifting away from the principle of competition.
I feel that the Nadeshiko League is not only about winning but rather it has a 'spacious and open feel' where importance is placed on the success of the league's overall activities. Competition in sport is important and it is natural for people to grow through competing with each other, however, I think that the Nadeshiko League strikes a good balance. The idea for the trophy emerged as I was discussing the Nadeshiko League's potential to bring forth new values."
Mr. Yokota, who turned these thoughts into a tangible object, interpreted Ms. Watanabe's thinking as follows: "Something that not only reflects the outcome of winning the championship but also enables the players to take away the memories they gained from training with teammates".
With the establishment of the professional WE League, there was a need for the Nadeshiko League to establish its own value and position. According to Mr. Yasuhisa Okuda, the Managing Director of the Nadeshiko League, he sensed that, "a design that would symbolize the Nadeshiko League as it moves into a new age would emerge". However, Ms. Watanabe's conception far transcended Mr. Okuda's imagination.
The design plan compiled into a CG sketch was shown to Mr. Okuda in October 2021. It depicted an image of medals representing individual players coming together to form a single trophy.
"There is no doubt that the concept was in alignment with the league, which cherishes diversity. However, because the idea was so innovative, I was initially hesitant and wondered if it could really be accepted."
Actually, Mr. Okuda had not ordered the production of original medals to Watanabe and Yokota.
"I wasn't sure if this idea would fit with the Nadeshiko League, and I believe that Ms. Watanabe and Mr. Yokota were aware of my doubts."
Why did such an idea come about? Mr. Yokota recalls as follows.
"Ms. Watanabe had said that it might also be interesting for the trophy to disappear. I thought that a trophy was a tangible object that could be held as something that gave shape to winning, which is intangible, however, it was from there that the idea of 'wouldn't it be interesting if the trophy were broken up into smaller parts?' came about. We live in an age of social networking services, where photographs and videos can easily be shot. We arrived at the idea of making a trophy that constituted a series of movements."
Clubs in the Nadeshiko League are also representatives of various areas throughout Japan. Mr. Yokota adopted materials that were commonly used in Japanese traditional crafts. For the base, he adopted a material similar to diatomaceous earth, which is used in building walls, and for the medals, rather than using ribbon, he adopted Japanese traditional braid. To express the idea that the league exists based on the mutual sharing of the participating teams, I also considered an idea for displaying the trophy surrounded by braids in the colors of all the teams.
The flat design with no protrusions or adornments imparts the feeling of soft gentleness rather than strong authority. On the inside of the medals, proof of being champions and various flowers of the Caryophyllaceae family are drawn, and no two medals have the same combination of shape and design. At meetings of the executive committee and board of directors in January 2022, nobody opposed the design proposal but everybody voiced great approval including the following comments: "It's wonderful and appropriate for the current age", "The concept is clear", and "It's fitting for the Nadeshiko League".
Mr. Okuda's initial concern when he first saw the CG sketch proved to be groundless. The Nadeshiko League Division 1 Championship trophy and medals were finished; all matches in the first season were completed, and Tomomi Nomura, the captain of the champions Sfida Setagaya FC, made her victory speech while holding the Division 1 Championship trophy at the 2022 Plenus Nadeshiko League awards ceremony.
"Together with our highly individualistic members, who have grown and learned to trust each other with every game, I am proud to have won this trophy and medals, which are an ideal fit for this team."
The trophy and medals, which had been painstakingly polished by Mr. Yokota, sparkled under the bright lights.
Ms. Watanabe says that she encountered a new aspect of sports through this experience.
"Recently, we frequently hear expressions such as 'a society that is hard to survive in'. It is precisely because we live in such a society that people living this time need alternative communities (offering new and separate options). This is similar to the idea of being 'half-involved' but, in seeing that the community formed by the amateur women's football league offered one such means of living, I realized that sports serve another role in addition to competitiveness. I think that it has similarities with numerous art collectives (communities of artists who stimulate their creativity by sharing production work and living together) that we see today.
This season, once again, teams are vying to reach the pinnacle of amateur women's football in Japan. Over the season lasting from spring to fall, players will compete against each other, support each other, and gain lots of experiences together with people in their communities and workplaces. The value and meaning of the Nadeshiko League and the appearance envisaged by those players are infused into the Nadeshiko League Division 1 Championship trophy and medals.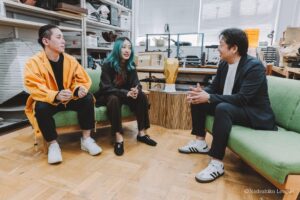 Shiori Watanabe
Born in Tokyo in 1984. She graduated Tokyo University of the Arts Graduate School in 2017. Placing emphasis on totality, her productions focus on the individual physical boundaries of objects, both living and inanimate. She has produced the private exhibitions "Bebe" (WHITE HOUSE, Tokyo) and "Nipponia nippon" (SYP GALLERY, Tokyo) and participated in the "Ripple Across the Water" exhibition hosted by the Watari Museum of Contemporary Art. She has also been involved in planning and curation at the "Amusement park city evolution – Squat operation meeting in Shibuya", "Toto-tarari-tarari-ratarari-Agari-rarari-tou" and more.
Shinpei Yokota
Born in Tokyo in 1992. He graduated Tokyo University of the Arts Graduate School in 2018. Offering a broad range of expertise in three-dimensional objects such as sculptures, products, interior, 3DCG and digital fabrications, he conducts all processes from design to production and installation. At the Department of Architecture of Tokyo University of the Arts, he utilizes his knowledge of materials, processing and structures to offer guidance to students as a technical advisor.