Birth of the Division 1 Championship Trophy and Medals (Part 1)
Sfida Setagaya FC became Plenus Nadeshiko League Division 1 champions for the first time in the final game of the 2022 season, thereby winning the brand new Nadeshiko League Division 1 Championship trophy. After having fought for 22 games, these abundantly individualistic players, with beaming smiles and shining medals hanging from their necks, savored the weight of becoming champions as they lifted the trophy above their heads. On reflection, it was absolutely necessary for the Nadeshiko League to have this original trophy and these medals as it entered a new age.
In 2019, approximately three years before Sfida Setagaya FC won its first championship, the JFA established the "Women's professional league preparation committee" and, in a joint effort with the Nadeshiko League clubs, started to seriously consider how to turn Japan's women's football league into a professional concern. Member clubs of the WE League were announced in October 2020. As a result, it became necessary for the Nadeshiko League, which had driven women's football in Japan for more than 30 years since its establishment in 1989, to be reborn in line with the times.
In the new age, with a professional women's football league in existence, where should the top amateur league seek its own value? Representatives of the Nadeshiko League clubs, together with external parties, conducted long and repeated discussions. Then, on September 2, 2022, they announced the "Nadeshiko League Vision Statement", which contained three keywords, namely "dissemination", "community", and "diversity". This statement indicated the guideline for the future management of the league, and the Division 1 Championship trophy and medals became the symbols of this. The Nadeshiko League at this time announced a series of new challenges including renewal of the League's logo mark, introduction of its official theme song, and shooting of candid photos of players. Mr. Yasuhisa Okuda, the Managing Director of the Nadeshiko League, thought the following: "We wanted to convey the value and significance of the Nadeshiko League and the vision we were aiming for through the new trophy". As for the trophy's design, he says, "Mabuchi-san was the only person we could ask".
"Mabuchi-san" refers to Ms. Akiko Mabuchi, art historian and professor emeritus of Japan Women's University. Ms. Mabuchi, who was working as director of the National Museum of Western Art, was appointed as Vice President of the JFA in March 2014 (the first time a woman was appointed to the post). From April 2015, she served as Chairperson of the Nadeshiko League. When Mr. Okuda approached her with the request, she had already retired from two positions, but she gladly accepted the job.
"The most important thing for me is the way that people link up in various ways and cooperate to achieve a goal. I am very happy when I see a series of passes link up well. It's very interesting how that kind of link-up play generates good results not only on the football pitch but also in ordinary relations with people."
The small pass (offer) that was made to Ms. Mabuchi quickly led to the next step. Ms. Mabuchi looks back on the time she was approached as follows.
"Since I was hoping to make some small contribution to the football world, I was delighted to have this opportunity to link art and football. The players who receive the trophy will also be happy; moreover, it is important to have a symbolic presence."
Ms. Mabuchi consulted Mr. Osamu Kido, who had only just retired as professor at Tokyo University of the Arts Department of Fine Arts. When Ms. Mabuchi was serving as the Vice President of the JFA, she had introduced Mr. Kido to Mr. Ikuo Matsumoto, who was Chairperson of Japan Soccer Supporters' Club (JSSC). This was because Mr. Kido had made the trophy for the JFA Cup to commemorate the 40th anniversary of the JSSC. On receiving the request, Mr. Kido immediately recommended a female artist, the contemporary artist Shiori Watanabe, who was a former student of Mr. Kido.
In April 2021, Ms. Mabuchi conveyed the attraction of the Nadeshiko League as she saw it to Ms. Watanabe. She explained, "Players in the Nadeshiko League love to improve their own abilities through playing. 'It's a league played by women who love football very much.' There are players who are aiming to become the very best, players who have quit work to focus on domestic duties, and players who continue playing even after giving birth and continuing to hold regular jobs. There are also players who haven't clearly decided what they want to do in the future, so I think it's a league where various types of people come together. It is a place for thinking about one's relationship with football, and it is a base that accepts various alternatives."
Ms. Mabuchi remains passionate about football. She has traveled to various countries and come into contact with football culture both inside and outside of stadiums. Even after retiring from the JFA, she continues to visit Europe to visit stadiums and persons involved with football. As for Ms. Watanabe, although she had experience of watching football matches, she knew hardly anything about the Nadeshiko League. Maybe the fact that she had no preconceived ideas about women's football is why she could directly accept Ms. Mabuchi's sentiments regarding the Nadeshiko League and its players.
"There is the impression that many people become averse to sport as a result of experiencing defeat, however, sport is essentially enjoyable. I believe it is important for people to play sports together."
Approximately six months later in October, Ms. Mabuchi received a CG sketch that had been produced by Ms. Watanabe. Ms. Mabuchi says that she was satisfied with the design.
"The most interesting thing was that each medal was shaped differently. Also, the medals that would be received by each player could be combined to make the trophy. I thought it was wonderful idea that gave expression to the individuality of the players. If I were asked to give an explanation to the board of directors, I was confident that I could definitely persuade all of the members. It was that good."
"I was reminded about just how deeply artists who produce conceptual works think about the reasons and connections behind the establishment of things. The Nadeshiko League Division 1 Championship trophy and medals were works that typified Ms. Watanabe. I want to convey how grateful I am that she understood the concept of the Nadeshiko League and expressed that in the highly original trophy and medals."
The series of passes that were played from Nadeshiko League Managing Director Mr. Okuda to the art historian Ms. Mabuchi, who was Chairperson of the Nadeshiko League, to Mr. Kido, who was professor at the Department of Fine Arts at Tokyo University of the Arts, and finally to Ms. Watanabe, who had been Mr. Kido's student, resulted in a goal in the shape of an outstanding trophy and medals. The next episode will describe the process that led to this outcome. If we were to compare this process to a game of football, we will pick up the story from the moment the play had entered the opponents' penalty area.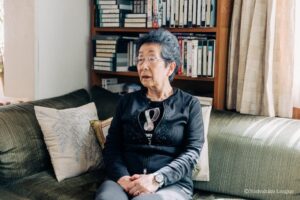 Akiko Mabuchi
Born in Kanagawa Prefecture in 1947. Graduated from the Graduate School of Humanities and Sociology and Faculty of Letters, the University of Tokyo. Professor emeritus of Japan Women's University, specializing in history of Western art. Served as Director of the National Museum of Western Art from 2013 to 2021. Her books "Janus des beaux-arts: Théophile Thoré et la critique d'art au XIXe siècle" (SKYDOOR) and "Japonisme: représentations et imaginaires des Européens" (Brucke) won the Suntory Prize for Social Sciences and Humanities and the "The Society for the Study of Japonisme Award', respectively.
Osamu Kido
Born in Wajima, Ishikawa Prefecture in 1950. After becoming a lecturer of sculpture at Tokyo University of the Arts in 1986, he was involved with guiding students and planning and organizing various research projects. He continues to produce works, while exploring the possibilities of metal sculpture primarily based on stainless steel. Starting with the "Spiral H" installed next to Lemon Gas Stadium Hiratsuka, his works are installed or stored at public facilities, art galleries and so on all over Japan.