Episode 23 Saori Adachi (Norddea Hokkaido)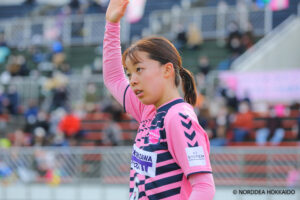 ーNorddea's players steadily building strength in snowy Sapporo
This series, in which I have been fortunate enough to speak to many players over the course of a year, has finally arrived at Norddea Hokkaido, which is the only team to represent Hokkaido in the League.
I conducted this online interview from Tokyo with Saori Adachi (19 years old) in January, just as players had returned to training for the new season. Unlike the other teams, due to snowfall in Sapporo, Norddea Hokkaido's players cannot conduct outdoor training until the middle of March. In addition to using the indoor training facilities of "Sapporo Soccer Amusement Park", which is the team's home stadium, the club somehow manages to secure a playing environment by entering a lottery to use Sapporo City's gymnasium facilities when they are opened to the public.
The interview took place at the end of January, just as players had started building their strength and were working on their own training menus. Adachi was working on a regime of muscle training and running about 5 kilometers in around 30 minutes every day.
Sapporo experienced a major cold wave at the beginning of 2023, with news reports saying that snowfall had reached a 10-year high, far greater than the average snowfall for January. When I asked if she could run outdoors, Adachi laughed as she answered, "Yes, no particular problem. A lot of the snow has been cleared and although it is still piled quite high, I'm used to it and can run."
I apologetically said, "Complaining about a bit of snow is typical of an ignorant Tokyoite".
In 2022, after joining Norddea Hokkaido from Hokkaido Otani Muroran High School, Adachi appeared in 18 games in her rookie season, helping the team finish in seventh place (16 points). She normally plays as a defensive midfielder, however, last season she was selected at center back. The outlook as the last line of defense is totally different from that as defensive midfielder, and she isn't strong at heading the ball, which she doesn't need to do so much in midfield. She struggled to adapt to the change of environment and her new position.
"It was the first time I played in that position. I wasn't at my best and there weren't any games where I could say I made an impressive play." In spite of such bewilderment, Adachi performed her job as a core defensive player.
After graduating high school, at the same time as choosing to continue playing football for Norddea, Adachi also proceeded to the next stage of education in order to realize her goal.
She wants to become an orthopedic nurse so that she can utilize her football experience and help patients when they have injuries.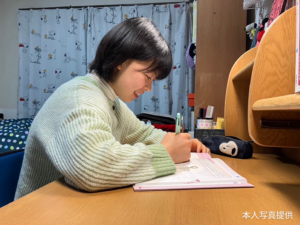 ―Continuing university, hospital training, and practice
Adachi is enrolled in the Faculty of Health Sciences at Hokkaido University of Science (Sapporo), where she is studying to take the national examination for nursing in her fourth year. With the COVID-19 pandemic still not fully extinguished, conducting nursing practice in hospital is a test of nerves.
Her average daily schedule is very hard.
She leaves her residence at 08:00 in the morning. After taking three classes at university, she works on various assignments, goes home, and eats evening dinner just past 17:00. That's because she has no time to do homework or work on assignments when she comes home from practice.
After dinner, she leaves the house again at 18:00 to take part in practice from 19:00. Since only two hours are available, she tries to clearly focus on the team's and her own specific tasks in training. She returns home after 22:00, has a bath and then makes sure to devote ample time to stretching, which she cannot do thoroughly at the training ground, to prevent injuries. Since she still has assignments to do, she doesn't get to bed until 1 o'clock in the morning.
"Compared to high school, when I concentrated only on playing football, I'm now trying to balance playing with studying to become a nurse. The studying is hard."
Laughing, Adachi showed me a difficult-looking textbook on anatomy. The pages were full of difficult illustrations and text.
"However, Norddea is the hometown club that I have always wanted to play for, and it's really enjoyable being able to play with players in such a wide age range. When the team lost the chance of victory due to my mistake in an away game, I cried so much at the hotel that my eyes were swollen the next day. However, the senior players helped me get over it by inviting me out for a meal and encouraging me. Balancing two things is hard, but at the same time enjoyable."
Although Adachi played as a center back in her rookie year, she says that she has a sense of satisfaction as a defensive midfielder by becoming the base of attacks and making through-passes for goals. She says that she aspires to Ao Tanaka, who played for the men's national team at the FIFA World Cup in Qatar. "He always takes up good positions in both defense and attack and can do a job preventing pinches and creating chances."
This season, Norddea welcomes a new coach in Ryuichi Yoneyama. Adachi says she has two objectives: to score her first goal and try to pass on as much of her first year experience to the younger players who join the club this year.
―Nadeshiko League as a support for the Japan national team and the WE League
We have seen players who enter the football pitch in the evening after having worked a fulltime job and commuted on a train packed with office workers, and players who rush to practice after having stood on a factory line.
There was a high school Nadeshiko Leaguer who travels long distances to attend lessons and train with her team, a player who also fills two other roles of worker and childrearing mother, and players who continue to play the game they love in spite of suffering repeated injuries. I have been truly fortunate to speak to all of these Nadeshiko Leaguers.
All the clubs that belong to the Nadeshiko League work on improving their environment while considering the importance of their role, and the players are playing as hard as they can in an effort to respond to the support they receive from their communities, companies and fans. Situated throughout Japan, these Nadeshiko Leaguers also support the professional WE League, which is embarking on its second year after splitting from the Nadeshiko League, and the "Nadeshiko Japan" national team. That's because they represent the starting point of women's football.
The Division 1 team "Ange Violet Hiroshima" was founded in 2012 riding on the wave of enthusiasm generated by Nadeshiko Japan's victory in the 2011 FIFA Women's World Cup. This citizens' club, which didn't have a corporate sponsor, was last year forced into dissolution due to financial difficulties. All clubs no doubt face the same challenges and problems. With the FIFA Women's World Cup due to be held in July (in New Zealand and Australia), this season will be a year in which everybody concerned will need to devise new methods for supporting and vitalizing women's football.
[Norddea Hokkaido]
Saori Adachi, shirt number: 6
Born on May 3, 2003 in Sapporo
Previous club: Hokkaido Otani Muroran High School girls' football club
→ Norddea Hokkaido since 2022
First league appearance: March 26, 2022, Plenus Nadeshiko League Division 2, 1st game, Shizuoka SSU Bonita vs. Norddea Hokkaido
Norddea Hokkaido official website: http://www.norddea.jp/
(Series author: Sportswriter Midori Masujima)