Episode 22 Miyu Shoji (Fukuoka J Anclas)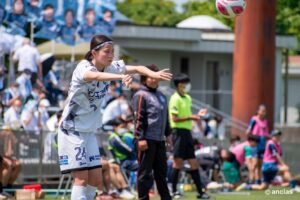 ―A 16-year-old Nadeshiko Leaguer with a bright future ―Looking forward to her second season―
Out of the players featured in more than 20 episodes of this series, this time's Nadeshiko Leaguer is probably the youngest to appear so far. No doubt the administrators of Fukuoka J Anclas gave permission for us to interview 16-year-old highschool girl Miyu Shoji upon considering this season's expectations and her growth with the club.
Shoji, herself, seemed very nervous at the beginning, as though she was wondering whether it was okay to be there.
For our online interview, the coach Mie Kawashima, who is a senior figure for Nadeshiko players, participated with her screen switched off, saying, "I don't want to get in the way or make Miyu feel nervous".
Observing the earnest expression of this 16 year-old, oblivious to her appearance in a room with hanging ground coats and down wear, and her coach, who had her video off and seemed more nervous than her player, it was heartwarming to see "future expectations" in such tangible form.
Shoji was selected to the first-team from the Anclas NOVE junior team in October 2022. For Shoji, as a native of Fukuoka, simply participating in joint practice is like a dream, and this club, which has been built up by seniors enjoying football regardless of age, fosters easy communication among all players, ranging from the youngest Shoji to the oldest.
When she first started taking part in first-team practice sessions, Shoji says she was so nervous she could only watch as passes went by.
She laughs shyly as she recalls those early days.
"I wasn't good at passing, I couldn't dribble well, and I was really nervous. That's how I was at the beginning, so I really felt insecure. However, even when I made mistakes, my teammates encouraged me and I gradually grew accustomed to the first-team through playing matches. This season, I can no longer say that, so I want to do my best to contribute to the team."
At the end of January, during a cold snap, the first-team players worked on building leg strength by going running along Momochihama Beach in Fukuoka.
Each week, Shoji takes part in the first-team's training on Monday, Wednesday and Friday. On Tuesday and Thursday, she joins the Nova training, and accompanies the team for matches at the weekend. Shoji's joy at being able to play with the first-team that she admires of course gives her the strength to meet comply with such a hard schedule, however, getting accustomed to the pace has not been easy.
However, Shoji has another reassuring "teammate" to help her get used to her footballing lifestyle. When she was in first grade at elementary school, she started playing football by following in the footsteps of her brother, who is six years older than her, in the club team coached by her father.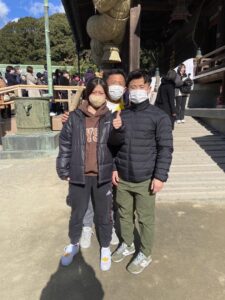 ▲ Hatsumode (New Year first visit to the shrine) with her family (photograph provided by Shoji)
She liked sports, but basketball has a three-step rule, while baseball has strikeouts. "I liked football because even as a child you can keep playing it". She played together with boys, and her father, who was coach, gave her broadminded guidance, saying, "Just play the way you like".
Meanwhile, Shoji's father was studying the posture and low center of gravity of the leading ski jumper Sara Takanashi when she takes off from the ramp. He advised Shoji to "be fully aware even when moving", teaching her in an easy to understand way the importance of how to use one's trunk in football.
Shoji's brother, who is good at dribbling, also helps her practice by playing a game of pushing the ball away from her. He tells her that, as a defender, she needs to keep her center of gravity low to avoid leaving a gap between her knees and being easier to dribble past.
"My brother is too familiar. He is a good example, but as a football player, he may be the furthest target for me. I currently face numerous issues such as acquiring the quality of passing, speed, dribbling and buildup play to survive at the top level. This year, I want to play aggressively so that I can make a contribution to the team. We want to gain promotion to Nadeshiko League Division 1."
Last season, Fukuoka finished fifth with 18 points, but this was far behind the champions Shizuoka (43 points) and second-placed Fukushima (42). The team struggled to score goals, but managed to finish mid-table by limiting the goals against to 22. As the club aims to make organized defense its characteristic strength, expectations are placed on Shoji.
At this point, Shoji's coach, who had kept her screen off during the interview, finally made an appearance. "I'm impressed at how she answered the questions so well on her first interview. Actually, we have just decided the new shirt numbers for the new season. Ms. Shoji wore the number 24 shirt last season, but this season she will wear number 5."
Shoji nodded and pursed her lips.
Miyu Shoji Profile
Born on November 1, 2006 in Fukuoka Prefecture. Position: defender
2022 registered with the junior team ANCLAS Nova
First league appearance: May 8, 2022
Fukuoka J Anclas official website: https://anclas.jp/
(Series author: Sportswriter Midori Masujima)