Episode 21 Emi Yamauchi (Referee)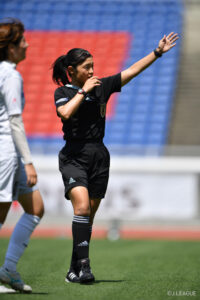 ▲ 2022 Plenus Nadeshiko League Division 2, 10th game, Yamato Sylphid vs Mie
―Why did a mother who had no football experience and was cheering for her sons become a Class-1 women's football referee?
Emi Yamauchi (39 years old, women's Class-1 referee), who was passionate about raising her children, believed that her sons' local football club was a place that would help them realize their dreams. That's why she was always able to cheerfully take her children to the football ground, no matter how busy she was at work or how tough things were.
Yamauchi is adept at sports and even appeared in a national judo tournament when she was at high school, however, she had no knowledge of football at all.
She only knew indoor sports and couldn't get used to playing sports outdoors in the intense sunlight of Okinawa. Leveraging her career as a beauty consultant for a major cosmetics manufacturer in large tax-exempt department stores, she was dedicated to above all else taking anti-sunburn measures and supporting her children and the fathers who worked as coaches and officials by preparing drinks and snacks. Around the time her first son advanced to fourth grade, he muttered.
"Everybody else's dads are coaching and helping with refereeing, but I don't have a dad. Going to football is becoming boring."
I thought I was doing my best to cheer my son on from the sidelines, however, I didn't realize that he was actually lonely and that what he really wanted was not cheering but rather a father to play with. Having realized her son's true feelings for the first time, Yamauchi made the following declaration before even thinking about it.
"In that case, mom will do refereeing. I might not be able to teach football, but I can study hard and officiate, so let's play football together."
Normally, the words that come after "In that case" describe things that can be done from the sidelines, for example, "I'll kick the ball around with you" or "I can watch videos and give you advice", however, Yamauchi expressed a willingness to leave the sidelines and get onto the pitch when she said, "mom will do refereeing".
At that moment, Yamauchi would never have thought that this small movement of a few meters from sidelines to pitch would greatly nurture not only her son's dreams but also her own.
―Inspired to become a referee by coming into contact with the spirit of football for the first time
This was the prelude to becoming a Class-1 women's referee.
The story developed rapidly from this point onwards.
First, Yamauchi started reading books to understand the Laws of the Game. She says that she still remembers the feeling of wonder she had at this time. At the beginning of the Laws of the Game, the following is written about the philosophy and spirit of the Laws.
"Football is the greatest sport on earth…and the Laws of the Game are the same for all football throughout the world, from the FIFA World Cup through to a game between young children in a remote village."
The first paragraph evoked a strong feeling in Yamauchi. Looking back, she says:
"I was immediately enthralled by the scale ranging from the FIFA World Cup through to a game between young children in a remote village. After reading the philosophy and spirit of the Laws, I realized the beauty of football and felt as though my world had opened up more. At that time, the best I could do was raise my children singlehandedly and I didn't have much belief in myself. However, starting from assistant referee, I gradually received more opportunities and my children cheered me on, so we could grow together. Football gave confidence to this frantic single parent."
While holding down a job, Yamauchi attended various workshops and actively went out to learn more. In a male-dominated world, there were of course people who didn't take kindly to a woman being on the frontline. On the other hand, leaving the circle of mothers required just as much courage as entering the unknown world of football.
However, her oldest son, who almost quit football, and second son were watching their mother as she continued to do her best for them. When she had to leave home to attend workshops and make trips to acquire a higher level of officiating, they never complained, and even when they saw their mother feeling deflated after having errors pointed out, they proudly boasted about their referee mother to their friends.
A major turning point was a reinforcement training seminar for women referees in the Kyushu region. Even though Yamauchi was past 30 years of age at this time, she was warmly welcomed and acquired precious learning that strengthened her resolve to aim even higher. She started officiating games in the national high school athletic championships and other tournaments not only in Okinawa but the entire Kyushu region.
"When I finished refereeing games, I received so much emotion and energy from the players that I would return to Okinawa with fresh resolve to try hard tomorrow. I would be filled with a lot of positive feeling."
Yamauchi progressed through the refereeing classes while her two sons continued playing football. She eventually acquired the Class-1 qualification for female referees in 2021, becoming qualified to referee games in the Nadeshiko League.
―Tearful dressing room apology from a Nadeshiko Leaguer ―Nadeshiko League's appeal from the referee's viewpoint ―
On experiencing the unique atmosphere of the Nadeshiko League as an official, Yamauchi says, "I think the Nadeshiko League players are wonderful". That's because, through the games, she gets to see close-up how teams are rooted in their communities, how the supporters love the players, and how the players do their best to respond to that feeling.
Because the technical level is so high, to test the ability of the officials, players sometimes get close to the referee to test her ability at keeping a distance and see how she responds. Players sometimes protest angrily at the referee's decisions. She can never forget one particular incident.
During one game, there was a player who argued vehemently and hurled abuse at the referee. After the game, as she was leaving the dressing room, that player was waiting outside. In tears, she apologized, saying, "I'm really sorry about what I did during the game. I should never have said such things."
"Conversely, I felt refreshed that she was just as passionate about the game as I was. I haven't had to show a red card in Nadeshiko League, however, to ensure that the players play fairly, I make an effort to talk and convey my thoughts to them before games to ensure that I can manage games well as an official."
Yamauchi once officiated a tournament in which her second son was playing. Amidst numerous games taking place, her son searched for and watched the games his mother was refereeing. When going home, he smiled and gave her a pass mark by saying "You did okay".
Yamauchi's oldest son arranges a tough training menu that incorporates the elements required by a referee. She laughs, "He's a tough coach".
"Thanks to football, I gained the courage to step out of myself". Utilizing her own experience, Yamauchi works as an advisor helping single parents and children in the local city office. Recently, she is also working to support home medical examinations and treatment for people who have trouble gaining access to medical care. In 2023, Yamauchi also wants to officiate matches in the professional WE League in addition to the Nadeshiko League.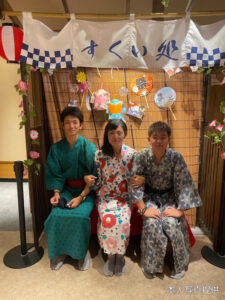 ▲Yamauchi with her two sons
Emi Yamauchi Profile
Born in Okinawa Prefecture. JFA registered Class-1 women's referee
Started officiating after acquiring referee qualifications (Class-4) in April 2013
Promoted to women's Class-1 in January 2021
First Nadeshiko League match officiated as referee:
April 18, 2021: Nadeshiko League Division 2, Fukuoka An-Nord
(Series author: Sportswriter Midori Masujima)