Episode 20 Ryoka Nagano (Referee)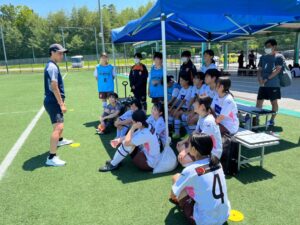 ▲ Pre-match meeting in the U-15 Chugoku League
Female referee who pursues football to the full as a player, coach, and referee
Last year's FIFA World Cup in Qatar received a lot of attention because it was the first time that female referees were employed in World Cup history. Six female officials, comprising three referees including Yoshimi Yamashita (36 years old, JFA professional referee) and three assistant referees, were selected, and Stéphanie Frappart (38 years old, France) officiated the final game in Japan's Group E between Germany and Costa Rica. Together with two female assistants, this was a historic occasion in which a "female trio" served as the match officials.
Although Yamashita didn't serve as a match referee, she was the fourth official for six matches. Since it was her job to replace any of the three match officials if they had an accident during a game, she carried out a high-pressure mission.
The referee Ryoka Nagano (24 years old, coach of Renofa Yamaguchi U-18 women's team), too, watched the proud figure of Yamashita and closely monitored the performance of the referees in the opening match between Qatar and Ecuador, which determined the trend of officiating for the entire tournament. As a Class-1 referee who also takes charge of Nadeshiko League matches in Japan, 24-year-old Nagano is sure to one day become an international referee and officiate big games in future.
Nagano says she saw glimpses of sharp freshness and a powerful message in the way Yamashita carried herself.
"I sensed a dignified manner in Yamashita even when she was the fourth official. I want to become a referee who can bring out football's appeal. The ideal is for players to say they were glad to appear in a game I have officiated, and I also want fans to leave the stadium feeling satisfied that they saw a good game. I think it would be wonderful if players, coaches, supporters and myself as a referee could enjoy football in our own ways. It isn't easy though.
Since Nagano officiates various local games during the Nadeshiko League's off-season, she puts hard work into running to ensure that she remains in good condition as a referee.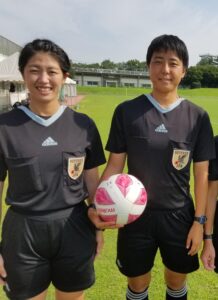 ▲ Final of the JAPAN Club Youth (U-18) Football Championship
ーReason for becoming a unique 3-way all-rounder
Born in Nobeoka City, Miyazaki Prefecture, Nagano advanced from her local Nishishina Junior High School to Miyazaki Nihon University Senior High School in Miyazaki aiming to "seriously play football" and one day become a Nadeshiko League player. At this time, it seems she made a very demanding commitment to her father. Even though Miyazaki Nihon University School had a dormitory, Nagano's father told her to commute from home for three years, and she agreed.
She had to get on the 05:30 train from Nobeoka to make morning practice, and come home following practice on the 21:30 last train from Miyazaki. She experienced high-level football at high school, appearing in a national tournament during her first year. At any rate, one cannot help but be surprised at the willpower that helped her commute to school like this for three years.
"I asked permission to enter the dormitory a number of times, but it was no good. Looking back, it was really tough. I think my father was testing how serious I was about continuing football. I couldn't do it again!"
Nagano laughed as she recalled those days.
The passion she displayed for football as a player subsequently grew stronger and deeper.
After graduating high school, Nagano continued football at Tokuyama University (renamed as Shunan University in April 2022) in Yamaguchi Prefecture. One day during her first year, she played in a friendly game against a team from the United States, and the dignified performance of a senior member who accurately refereed and controlled the game against unknown overseas opponents inspired her to want to try officiating herself.
A "feeling of elation at making a game" (Nagano), which she couldn't get from playing, drew her towards a refereeing career so much that she obtained Class-3 and Class-2 referee qualifications during her first year and was sounded out for recommendation to Class-1 refereeing during her fourth year.
However, the unique thing about Nagano is that she didn't directly advance into refereeing.
"As I received more opportunities to officiate local games, I enjoyed watching various football from children to adults and learned a lot. Out of that, I acquired a desire to teach children, junior high school students, and adult ladies at school. Wanting to learn more about football as a player, referee, and coach, I thought about acquiring a coaching license."
There have been cases of players retiring and becoming coaches or referees, however, not many have simultaneously filled three roles as a player, Class-1 referee, and club academy coach. She also reveals that she has a dream to "compete in a top league" as a female coach.
There are encouraging responses too. When she guides junior high school girls as a coach, more and more girls approach her with questions about refereeing, asking how various situations should be handled during matches and so on. Moreover, 15 of the members on her junior high school girls' team have attended refereeing workshops and acquired Class-4 qualifications.
By acquiring the perspective of both player and referee, Nagano's approach to football has changed. It is an unexpected joy.
ーNadeshiko League from the referee's viewpoint
On coming to officiate Nadeshiko League games, Nagano feels there are characteristics to the ways that players say, "Is that a foul?" or "Why?" when they are called for a foul. However, it is not the same as protests or delaying tactics.
"Players in the Nadeshiko League have very strong connections with supporters and their local communities and they actively communicate with officials. When they are called for fouls too, they are eager to move onto the next play, and I too want to communicate well with them in helping to make games better. There are some officials who become very discouraged at the things players say. I think my strong point is that I regard it as important to switch my mindset and can cooly respond to abusive language and so on.
The local league has players from Brazil, so communicating in English is also important. Nagano intends to improve her language skills from now on.
Nagano's three-way involvement as a player, referee, and coach is underpinned by a hungry spirit of enquiry and deep passion for football.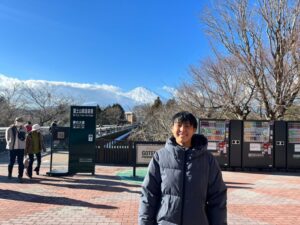 ▲ Private photograph when out shopping
Ryoka Nagano Profile
Born in Nobeoka City, Miyazaki Prefecture. JFA registered Class-1 women's referee
Started officiating after acquiring referee qualifications (Class-4) in January 2016
Promoted to Class-1 women's referee in December 2021
First Nadeshiko League match officiated as referee:
April 16, 2022: Nadeshiko League Division 2, 4th game, Fukuoka AN vs. Yunogo Belle
Photographs provided by Ms. Nagano
(Series author: Sportswriter Midori Masujima)