Episode 19 Kokoro Yoshioka (defender, JFA Academy Fukushima)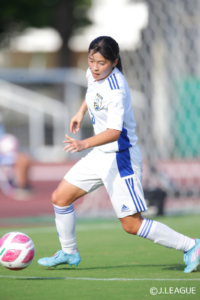 ▲ 2022 Plenus Nadeshiko League Division 2, 16th game, Yamato Sylphid vs. Fukushima
Kokoro Yoshioka – JFA Academy Fukushima's ever-present showing glimpses of the future of women's football
On starting the online interview with Kokoro Yoshioka (17 years old, enrolled to the Academy as a 13th term member in 2018), the screen and audio were suddenly interrupted due to a poor Wi-Fi signal. We tried to reconnect numerous times, but couldn't recover the call. Thanks to the quick thinking of a JFA Academy staff member, we resumed the interview by telephone. When I apologized to Yoshioka for the inconvenience, she said "No, I'm the one who owes you an apology. Thank you".
Representing the best of the Japan Football Association's development program, JFA Academy participates in Nadeshiko League Division 2 (the Challenge League up to 2020). While the Academy students are elite players striving to improve their footballing skills, they are also taught to contribute to the local community and society, even if they are teenagers. From Yoshioka's most natural response, I was once more reminded how far that objective has come to pervade her daily affairs.
In the 2022 season, JFA Academy Fukushima finished second in the league on 41 points, just two points behind the champions Shizuoka SSU Bonita. They scored a league-top 47 goals, far outstripping the 37 goals of the champions Shizuoka, and counted four players among the division's top ten scorers.
In terms of goals against, the team conceded 17 goals, second only to Shizuoka (15), giving it the highest goal difference in Division 2 of 30. Yoshioka, who played in every game in 2022, was a central figure in this solid defense.
After finishing second in Nadeshiko League Division 2, which started in spring, in September, JFA Academy Fukushima won the "JFA U-18 Women's Football Final 2022", a tournament contested by teams affiliated with the Japan Club Youth Football Federation and teams affiliated with the All Japan High School Athletic Federation to decide Japan's top team in the women's U-18 age group. In October, Yoshioka was selected to represent Japan in the FIFA (Federation of International Football Associations) U-17 World Cup held in India (defeated in the quarter finals).
"It was really unfortunate that we couldn't win the league. Personally, my main regret was a lingering injury I carried from the year before. I suffered a pulled muscle in my right thigh in March and, although it got better once, I hurt it again and then started feeling pain in my knee and couldn't really play the way I wanted. I had never experienced such a frustrating feeling before and wanted to get back to playing as quickly as possible. However, by playing more of a supporting role in games, I for the first time realized how other players in the same position played and thought. Since I am a defender, by watching, I was able to see the timing with which forwards want the ball and so on. Therefore, although I was injured, I learned a lot just by watching."
Even playing in the same defense, the role that is required differs according to the stage being played on. On the different stages of domestic league games, cup games, and the ultimate World Cup games, Yoshioka says that the thing she worked on most was her communication ability.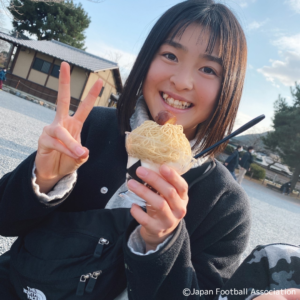 ▲ Eating a Mont Blanc parfait at Arashiyama in her hometown of Kyoto
 ーSpeaking out loud has special meaning as a player, both in games and in other situations
While at the Academy, players experience football from various angles without having any one set position. Yoshioka, too, started out as a defensive midfielder, then moved to side half, and now is a defender, thereby gradually broadening her perspective in the defensive direction. When asked what she regards as most important in football, she immediately answers "It's communication". When playing, she is constantly aware of calling out to teammates, for example, urging players to block a shot, encouraging players to pressure opponents when viewing the overall pitch from the back and so on. She is well aware of the importance of pertinent coaching in deciding the outcome of games.
"Receiving praise helped me realize just how important communicating in a loud voice is when defending. At the World Cup in India, we lost to Spain, however, I once again realized how well players communicate in the Nadeshiko League. One day, I want to represent Japan and become a mentally tough player like Sawa-san (Homare Sawa, captain of the Nasdeshiko Japan team that won the 2011 FIFA Women's World Cup in Germany). As was demonstrated by Nagatomo-san (Yuto) and the 1 millimeter goal-line assist by Mitoma (Kaoru) at the FIFA World Cup in Qatar, small differences in mental strength can decide results."
I asked Yoshioka if she felt homesick when she left her parents' home in Kyoto to enter JFA Academy in 2018. In response, she laughed and said, "There was so much to learn and the playing of the senior members was so dense that it seemed like I was hanging on every day to avoid dropping out". I sensed her true feeling in her expression "I was hanging on every day".
Due to the Great East Japan Earthquake of March 2011, JFA Academy Fukushima could no longer continue activities in Fukushima and had to resume activities in Tokinosumika in Gotemba City, Shizuoka Prefecture in April that year and the female players used part of the training and dormitory facilities of Teijin Academy Fuji in Susono City, Shizuoka Prefecture from August 2015. The male players returned to Hirono Town, Fukushima Prefecture in 2021, and the junior and senior high school players are expected to return to Naraha Town in April 2024.
With priority given to academic studies, only two hours is allowed for football training after school has finished. Thanks to the support of Teijin Academy and the local community, players, even those at junior and senior high school, actively participate in local exchange events and sometimes even rice harvesting, etc. It would be easy for JFA Academy to focus only on playing football as an elite institution, however, high school players learn how to be members of society while also participating in the Nadeshiko League. In other sports associations, since there are few cases of high school students only competing unaided in a top amateur league, such ongoing participation is imparting a major impact on other disciplines.
Yoshioka's wish is to play in the professional "WE League" after graduating.
While learning as a high school student, every week Yoshioka experiences football played in a spirit of fair play at a high level as a Nadeshiko Leaguer. Through links with the local community, she is truly feeling gratitude at being given the opportunity to focus on football in Fukushima and Shizuoka. This 17-year-old player, "hanging on every day" to fill her role on and off the pitch, will play her final year in Nadeshiko League in 2023.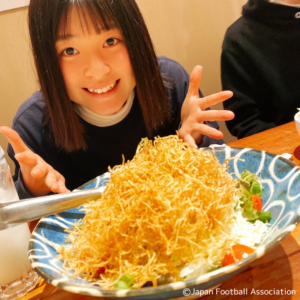 ▲ Dinner while on a visit home. A brief interlude of family time.
Yoshioka Kokoro Profile
Born July 17, 2005 in Kyoto. Position: defender
Kyoto Joyo Soccer Club → JFA Academy Fukushima (since 2020)
First league appearance: October 11, 2020 at the age of 15 years 86 days
Photographs provided courtesy of J. League/JFA Academy Fukushima
JFA Academy Fukushima: https://www.jfa.jp/youth_development/jfa_academy/fukushima/
(Series author: Sportswriter Midori Masujima)